Brian Cashman is the longest-tenured GM in baseball. He started as an intern in 1986 and was promoted to assistant GM in 1992 before being named the General Manager prior to the 1998 season. However, Cashman was reluctant to take the job. He knew that George Steinbrenner had a history of firing people in power positions any given moment. Luckily for Cashman, the Yankees went on to win the World Series in his first three seasons at the helm.
In the twenty seasons since the Yankees' 2000 World Series victory, Cashman's teams have experienced multiple phases with varying levels of success. Postseason disappointments littered the 2001-07 seasons. Missing the playoffs entirely in 2008 led to a free agency splurge ahead of the 2009 season. That team produced a title immediately, but failed to win it all again. The 2013-16 teams were a pathetic group of aging veterans that appeared in only one playoff game. And finally, Aaron Judge helped usher in the "Baby Bombers" era with a team that came one win shy of the World Series in 2017. With every playoff shortcoming, there has remained one constant: starting pitching.
Even in the years where the Yankees' starting pitching isn't necessarily the reason they lose, the other team's starters always seem to be the difference makers. Despite all of Brian Cashman's successful moves, even his strongest supporters will admit that starting pitching has been Yankees' achilles heel the last twenty years. Not since the days of Cone, Pettitte, Wells and El Duque have the Yankees had a truly deep starting rotation. Even in their most recent World Series win in 2009, the Yanks went with a three-man rotation in October.
So I decided to look at every major starting pitching move that Brian Cashman has made since 2000. I also included some of the more notable pitchers Cashman didn't acquire, who sometimes had a larger impact on the Bombers' success than the ones that did end up in Pinstripes.
Part 1 focuses on Cash's moves from 2000-07.
2000-01 Offseason: Signed Mike Mussina
The first move on the list also happens to be one of Cashman's best. He signed Orioles' right-hander Mike Mussina to a six-year, $88.5 million contract as the Yankees pursued a four-peat in 2001. Mussina did not disappoint, going 123-72 with a 3.88 ERA in his eight seasons in the Bronx. He also had a heroic relief appearance to keep the Yanks in Game 7 of the 2003 ALCS. Mussina tossed three scoreless innings after a rough start from Roger Clemens. Mussina is a somewhat underappreciated Yankee because his time in New York was sandwiched between two World Series wins. Despite this, as far as big-money free agent pitchers go, Moose was absolutely a success.
2001-02 Trade Deadline: Traded for Jeff Weaver
While Mussina was a hit in the Bronx, the same could not be said for Cashman's next acquisition. Weaver had a 3.18 ERA in 17 starts with the Tigers in 2002 before the Yankees acquired him in July. He pitched to a 4.04 ERA with the Yanks down the stretch of that year, more than respectable. Things went south in 2003 though, as Weaver went 7-9 with a 5.99 ERA. He later gave up a walkoff homer in Game 4 of the World Series against the Marlins.
2002-03 Offseason: Signed Jose Contreras
Cashman signed two starting pitchers ahead of the 2003 season. I'll get to the other one, Jon Lieber, in the next section, as an injury caused him not to appear for the Yankees until 2004.
Cashman inked Contreras, a heavily sought after Cuban defector, to a four-year deal in December of 2001. Due to injury he made only nine starts, but he was very good in them, going 6-1 with a 2.34 ERA. Contreras' overall stat line in '03 was 7-2 with a 3.30 ERA, but he had a rough postseason, allowing seven runs in eleven innings across his eight appearances. He transitioned back to a full-time starter in 2004 but once again struggled, posting a 5.64 ERA in eighteen starts. Cashman eventually traded Contreras to the White Sox in a deadline deal for Esteban Loaiza. 
2003-04 Offseason: Traded for Kevin Brown & Javier Vazquez, Signed Jon Lieber
Cashman had his work cut out for him after the Yankees lost the 2003 World Series to the Florida Marlins. That offseason saw both Pettitte and Clemens depart for Houston. Cashman then made a handful of moves to replace them in the rotation.
So much to unpack with this group. Let's start with the "best" (yikes) of them. After rehabbing his injury in 2003, Lieber went 14-8 with a 4.33 ERA for the Yanks in 2004. He gave up 3 ER over 6.2 innings in a no decision in ALDS Game 2 against the Twins. Lieber then won ALCS Game 2 against the Sox but took the loss in Game 6. Overall, a decent season in Pinstripes.
Vazquez was actually an All-Star in 2004 before struggling down the stretch, going 14-10 with a 4.91 ERA. He got the win in relief in ALCS Game 3 before allowing the soul-crushing Johnny Damon grand slam in Game 7. Vazquez would eventually go on to make a second stint as a Yankee in 2010. Spoiler alert: it didn't go well that time either.
Brown was acquired from the Dodgers in December 2003 in a deal that involved both Weaver and former NFL quarterback Brandon Weeden. Weeden, ironically enough, played for the Browns.
Before the 2004 season, the Yankees traded a package of players, including Brandon Weeden, for Kevin Brown.

Weeden ended up playing football instead, eventually getting drafted in the first round of the NFL Draft by… the Browns. pic.twitter.com/xEGxXj3DLv

— Stanzo (@ncostanzo24) July 13, 2020
Brown wasn't bad in the 2004 regular season, going 10-6 with a 4.09 ERA. However, he made only 22 starts due to various injuries. Most notably, a broken hand after punching a wall in September. He won ALDS Game 3 before getting lit up in games 3 and 7 of the ALCS. He went 4-7 with a 6.50 ERA in 13 starts in 2005 before retiring.
As I mentioned before, Loaiza joined the Yanks at the deadline in 2004. He went 1-2 with an 8.50 ERA in pinstripes. He allowed only one run in 8.1 playoff innings, but that one happened to be David Ortiz' walk-off homer in Game 5.
Moral of the story here is that if Cashman could have somehow convinced either Pettitte or Clemens to stay, or if he had signed Curt Schilling instead of making moves for Brown & Vazquez, the Yankees probably win the pennant in 2004. Instead, they suffered their most painful postseason exit in franchise history.
2004-05 Offseason: Traded for Randy Johnson, Signed Carl Pavano & Jaret Wright
Here's where the "fun" really begins. After the ALCS collapse in 2004, Cashman addressed the starting pitching problem ahead of the 2005 season. Or at least, he tried to.
His headline move was trading for one of the best pitchers of all time in Randy Johnson. After failing to acquire Schilling in the previous offseason, Cashman got the other half of the duo that sunk the Yanks in the 2001 World Series. Johnson's resume stands up with anyone's: 10-time All-Star, 5-time Cy Young, former World Series MVP. The "Big Unit" was 41 years old by the time Cashman acquired him, but still one of the best pitchers in baseball. Johnson was coming off a season in which he went 17-8 with a 2.60 ERA and led the National League with 290 strikeouts.
Johnson was not nearly as good as a Yankee, posting ERA's of 3.79 and 5.00 in his two seasons with them. The worst part was that he was an utter postseason failure in pinstripes. He got shelled for five runs in just three innings in ALDS Game 3 in '05, and another five in Game 3 again in '06.
Wright was coming off a solid 2004 in Atlanta where he went 15-8 with a 3.28 ERA. He would go on to make 40 starts over his two seasons in the Bronx, going 16-12 with a 4.99 ERA. Wright didn't make it out of the third inning in his only postseason start, allowing four runs on five hits as the Tigers eliminated the Yankees in ALDS Game 4 in 2006.
Now for perhaps the most polarizing guy on this list. Carl Pavano was coming off a breakout 2004 with the Marlins in which he went 18-8 with a 3.00 ERA in which he was an All-Star and placed sixth in NL Cy Young voting. Cashman inked Pavano to a four-year, $39.95 million contract before the 2005 season. In return, Pavano made just 26 starts in pinstripes.
Pavano was constantly injured as a Yankee. Among the injuries: a strained buttocks in 2006 Spring Training, broken ribs from a car accident in August that same season, and an elbow strain leading to Tommy John surgery in April of 2007. He was reportedly also unhappy that his contract was for just under $40 million, something he apparently didn't understand during negotiations. Mussina was among teammates who questioned Pavano's work ethic, saying "it didn't look good from a player's and teammate's standpoint." Pavano was so oft-injured that the media started referring to him as "American Idle".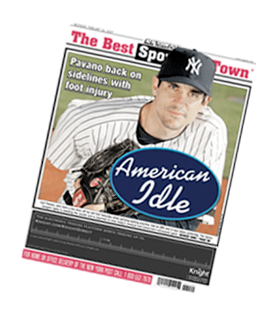 Those three moves were a huge part of the colossal failure that led to a first-round exit in both 2005 and 2006.
2007: Reunion with Pettitte & Clemens, Signed Kei Igawa
Cashman brought back a couple of familiar faces to try and fix the rotation in 2007. Pettitte and Clemens both returned after three seasons in Houston. The 44-year-old Clemens returned in June, going 6-6 with a 4.18 ERA in 18 starts. He was eventually forced to leave ALDS Game 3 with a hamstring injury. Pettitte went on to pitch six more seasons for the Yanks. He ended up being a huge part of their 27th championship in 2009.
A Brief History: Roger Clemens' Yankees Legacy
Igawa was probably the worst pitcher on this entire list. He pitched in just sixteen games to a 6.66 ERA in 2007 and for the Yankees at the major league level, then spent the remainder of his contract pitching in Double- and Triple-A. The Japanese lefty was an absolute failure of an experiment.
2008 saw the Yankees miss the playoffs for the first time since 1993. In response, Cashman once again set out to finally fix the rotation for good. I'll detail exactly what he did in part 2, coming soon.