ARLINGTON, Texas — It was an almost perfect series for the New York Yankees visiting the Texas Rangers. This time around they did things in reverse, losing the first game but winning the next three. Losing the Gerrit Cole start but then winning three in a row is more than you can ask for. Hence, the Yankees finish their road trip at 7-3 and have won six consecutive series. They're also at the high-water mark on the season at six games above .500.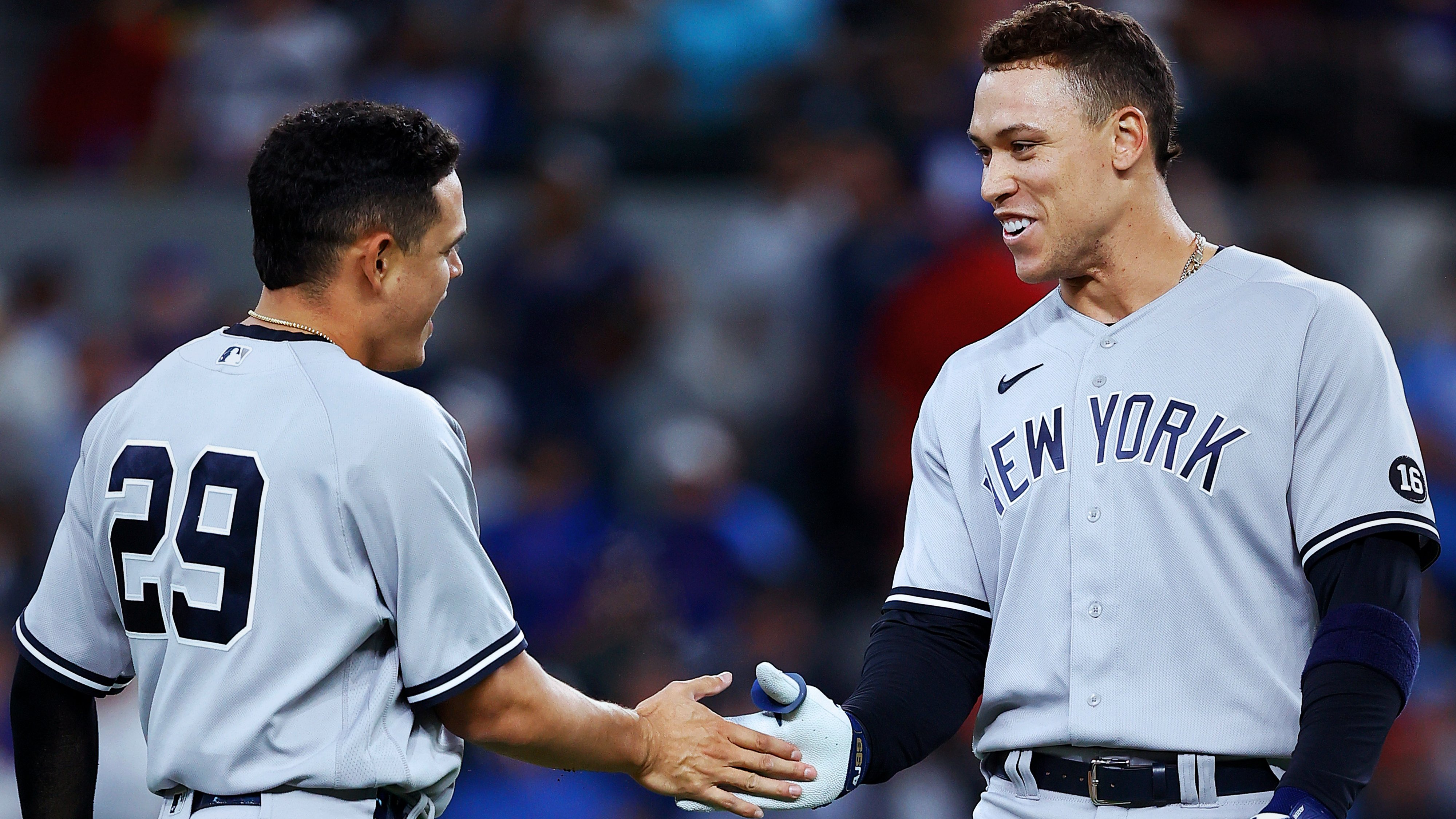 GAME 1
It was a perplexing 5-2 loss for the Yankees. New York jumped out to a 1-0 lead on a Gio Urshela single to left but that's all they could scratch out against Jordan Lyles and his six-plus ERA. Granted Cole wasn't his usual sharp self but you need to provide more support than that from this lineup. Luke Voit was able to pop his first homer of the season in the eighth inning but it was pretty much too late by that point.
TURNING POINT
During the second stanza, the Rangers erupted against Cole. Adolis Garcia homered to right. David Dahl and Isiah Kiner-Falefa traded spaces on consecutive doubles to take the lead at 2-1. With one down and Kiner-Falefa having stolen third base, Jose Trevino singled to center to increase the Texas advantage. The Rangers capped off their scoring against the Yankee ace in the fifth frame with a Willie Calhoun solo swat to center.
GAME 2
The Yankees got creative in their 7-4 win. They chose the correct time to pull Jameson Taillon. Played some small ball with the bats. Plus, some power ball with the pen and Aroldis Chapman hitting 103 on the radar gun.
TURNING POINT
Trailing 3-0 in the fourth frame, the Yankees offense changed it up against Mike Foltynewicz. Aaron Judge got the ball rolling with a one-out single to center. An Urshela double to left got the Yankees on the board. With two down, a Gary Sanchez double, plated Urshela. Miguel Andujar singled home Sanchez for the equalizer. After a Mike Ford single to right and a walk to Ryan LaMarre, DJ LeMahieu lashed a two-run single to right off reliever Kolby Allard to give the Yankees a 5-3 lead they'd never relinquish.
That's no man. That's a machine. pic.twitter.com/XhGIM7oqpd

— New York Yankees (@Yankees) May 19, 2021
GAME 3
This game was pretty much self-explanatory. Oddly enough on Corey Kluber bobblehead night in Texas, the veteran righty dialed it up and tossed a gem of a no-hitter. The 2-0 victory marked the twelfth no-hitter in franchise history and the first on the road since the "Super Chief" Allie Reynolds turned the trick in 1951. It was also the Yankees' first no-hitter since David Cone's perfect game in 1999. As JJ tweeted in a pretty apt comparison, it was this generation's Dwight Gooden no-hitter, a former ace who got off to a rocky start with the Yankees but reclaimed his former glory for a night.
TURNING POINT
Obviously, it was Tyler Wade taking over for an injured LaMarre, plating Kyle Higashioka with an RBI triple to right-center and scoring on a LeMahieu sac fly to left in the sixth inning, right? OK "Wader" did have a nice game but it was all about Kluber and his economical, nearly Greg Maddux no-hitter. The Yankees would certainly need it after banging into five double plays.
We'll take ✌️ pic.twitter.com/RdGr33SC5h

— New York Yankees (@Yankees) May 20, 2021
The lone blemish on his ledger was a one-out walk to Charlie Culberson in the third inning. Otherwise, Kluber was dealing on a 101-pitch outing. He especially had a sharp curveball working. Six of his nine Ks came via the deuce. Kluber was also spotting his changeup and four-seam fastball as well.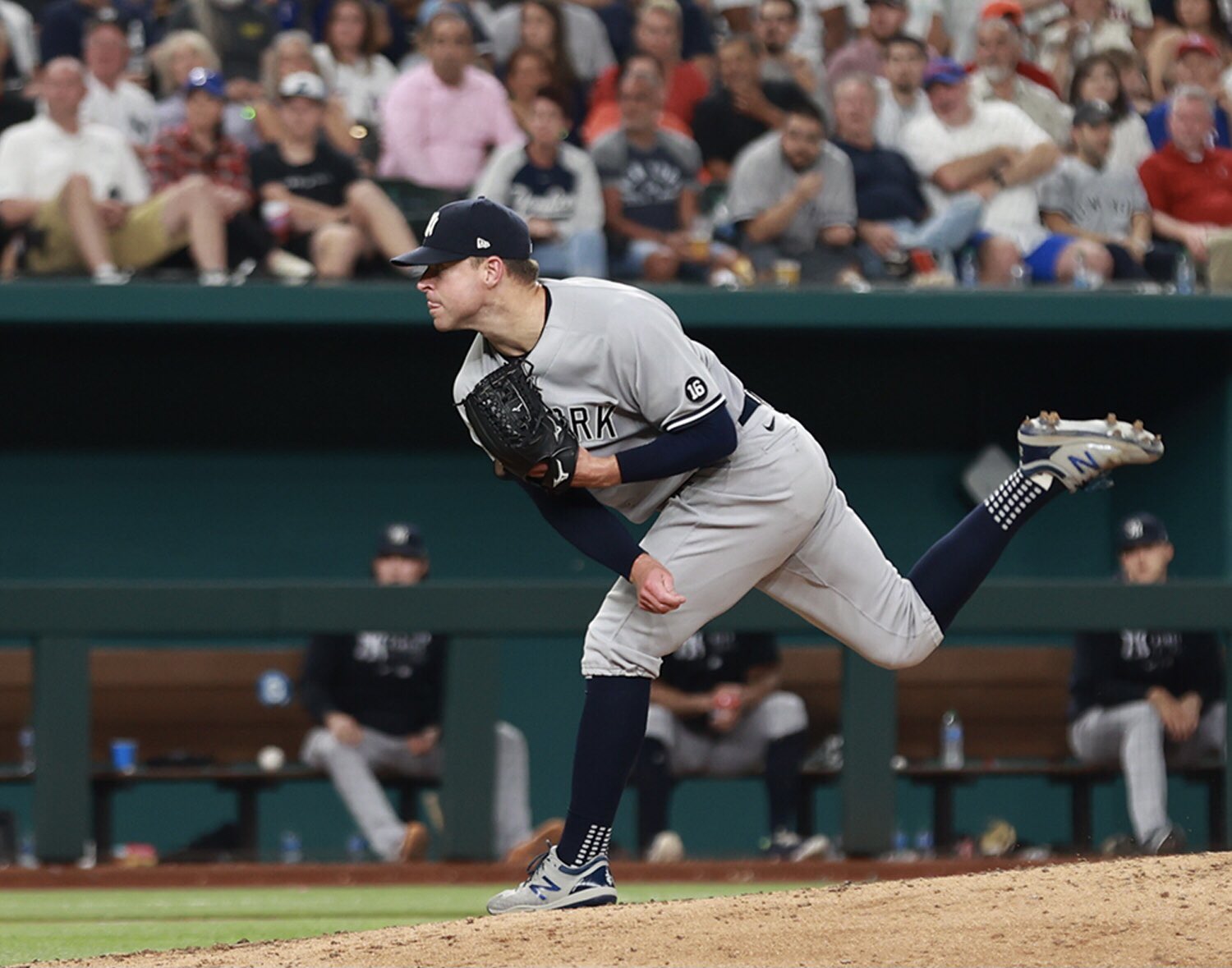 Eight of the outs came in the air and 10 on the ground. The ninth inning saw a bit of both. LeMahieu was shaded perfectly more toward the middle at second and fielded a Culberson grounder for the first out. Then Wade utilized his speed to track down a line out from the pinch-hitter Dahl in right. Finally, Gleyber Torres in a shift swallowed up a Calhoun grounder, fired to Voit at first base and the celebration commenced.
Coreybook Ending pic.twitter.com/2156vAfjWU

— New York Yankees (@Yankees) May 20, 2021
GAME 4
Once again there wasn't a whole lot of scoring and there didn't need to be. The Yankees blanked the Rangers 2-0 behind seven scoreless innings from Domingo German, as well as zero apiece from Chad Green and Chapman. The Yankees played some pretty sharp defense as well, hello LeMahieu! A pair of timely pinch-hits made the difference for New York.
DJ does it all 🤖 pic.twitter.com/p2RFIvhMQS

— New York Yankees (@Yankees) May 20, 2021
TURNING POINT
In the seventh inning, facing reliever John King, Rougned Odor reached on a hit by pitch. Odor moved to second on a Torres groundout. Sanchez put runners on the corners with a single to left. Then manager Aaron Boone substituted Urshela for Ford and much as he did in Baltimore, the third baseman came through with an RBI single to right to break the stalemate.
Whatta ya know. It's Gio. pic.twitter.com/Blgciod04f

— New York Yankees (@Yankees) May 20, 2021
Following an Andujar strikeout, Boone again went to the bench and sent up Judge for Wade. Judge proceeded to double the lead with an RBI single to center.
ON DECK
At 25-19, the Yankees return to the Bronx to take on the Chicago White Sox in a three-game series starting Friday evening at Yankee Stadium.
Pitching probables, Carlos Rodon vs. Jodan Montgomery, Dylan Cease vs. Gerrit Cole, Dallas Keuchel vs. Jameson Taillon.