FLUSHING, N.Y. — Oh the pain. Sometimes it's not so much that this team loses but how they lose. Even when they win, it's never easy. In this weekend's Subway Series against the New York Mets, the New York Yankees got bopped on the nose by little brother and the orange and blue slinked away with the last laugh.
GAME 1
There was no rhyme or reason to this game. It was a baffling, sloppy 10-3 loss for the Yankees.
The Yankees did take some baby steps and a lead, for once. Facing Tylor Megill, Brett Gardner sliced a one-out triple to left in the first frame and was plated on an Aaron Judge ground out to second base.
However, with two outs in the home half, an absolutely inexcusable play happened. With Jonathan Villar on second base, Javier Baez singled to left but Joey Gallo made a throw to home that had Villar dead to rites by 25 feet. Yet, for whatever reason, rather than hold his position or aggressively go for the tag, Gary Sanchez nonchalantly thought Villar would give up on the play until he didn't and slid safely under the tag to tie the score. Unreal.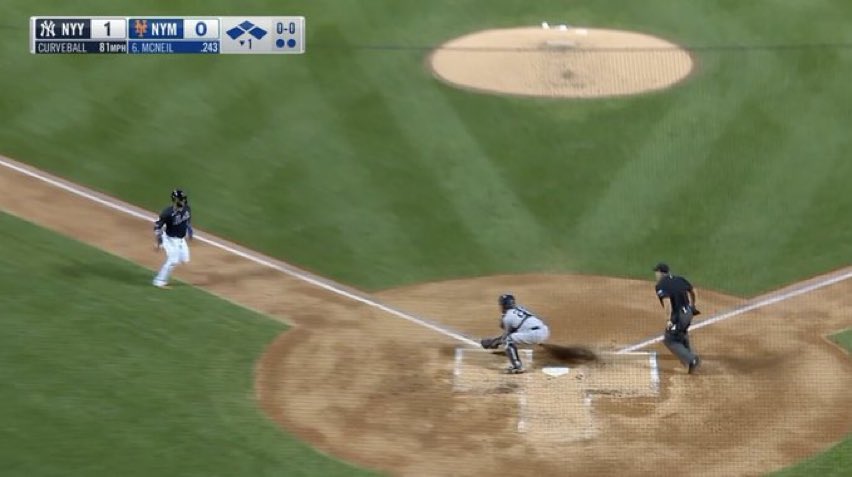 The gray and navy blue would shake it off temporarily in the second stanza, as Joey Gallo smoked a solo bomb to center. That would be the high point though, as the Yankee lineup would strike out 10 times against Megill.
Galloping around the bases. pic.twitter.com/NacR1XhMo8

— New York Yankees (@Yankees) September 10, 2021
In the third inning, the Yankees subway car fell completely off the rails. Villar singled, Montgomery walked Francisco Lindor, and then uncorked a wild pitch before issuing free passes to Michael Conforto and Pete Alonso to tie the game. Baez reached on a fielder's choice and throwing error by Gio Urshela, as the Mets gained a 3-2 edge. Jeff McNeil plated a run on a bunt fielded by Anthony Rizzo, as no one covered first base on the play. A Kevin Pillar sac-fly made it 5-2. Thankfully, the Mets are also prone to boneheaded plays, as Baez was caught stealing. Alas, a James McCann RBI double, increased the blue and orange advantage to 6-2.
I could go on but those three innings essentially sum up the story of this contest.
GAME 2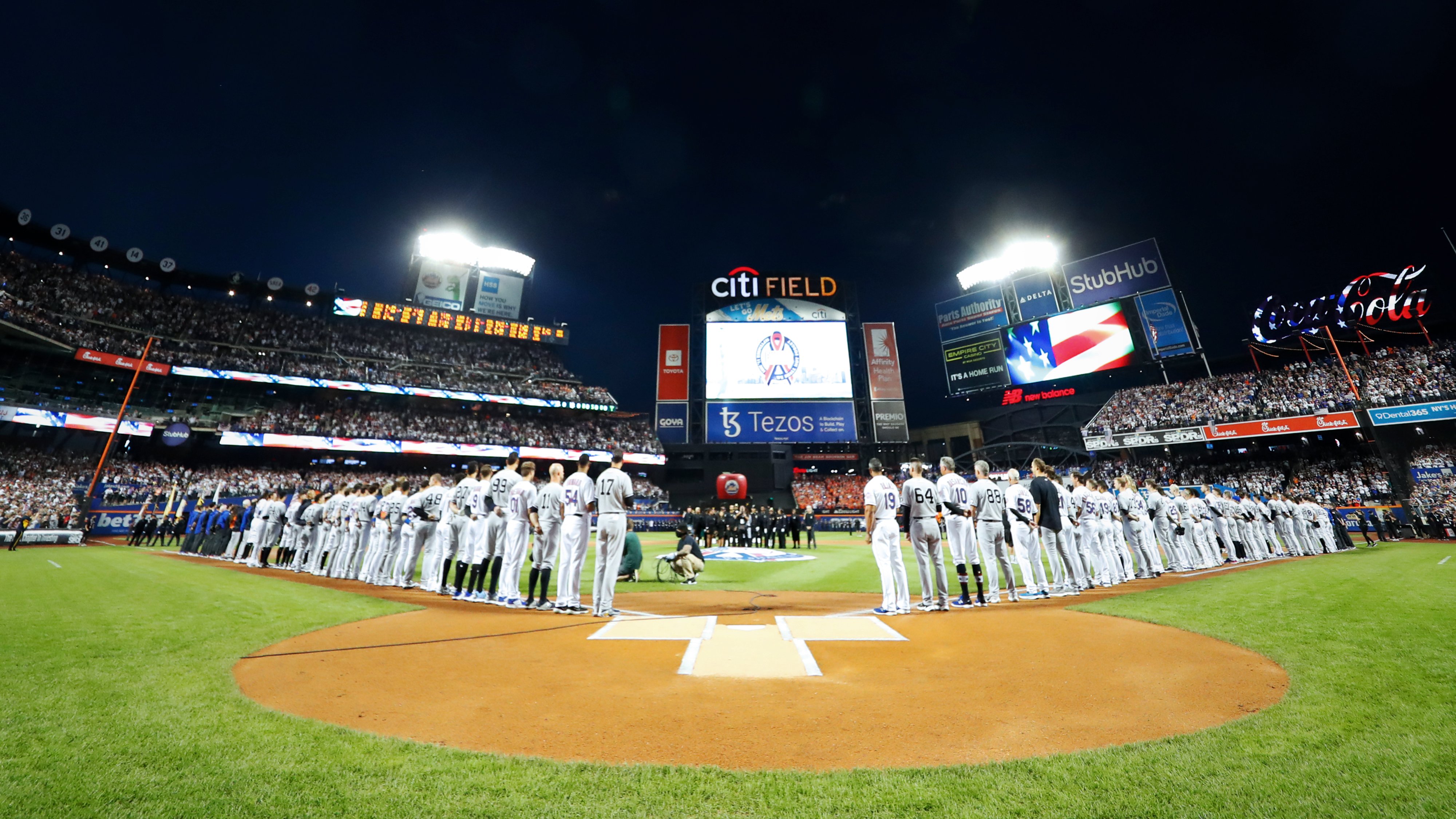 Call it the Aaron Judge game! Judge put the Yankees on his back and rose to the occasion multiple times in the 8-7 victory.
During the second stanza, the Bronx Bombers pounced on Mets starter Taijuan Walker. Kyle Higashioka clocked a two-run tater to left.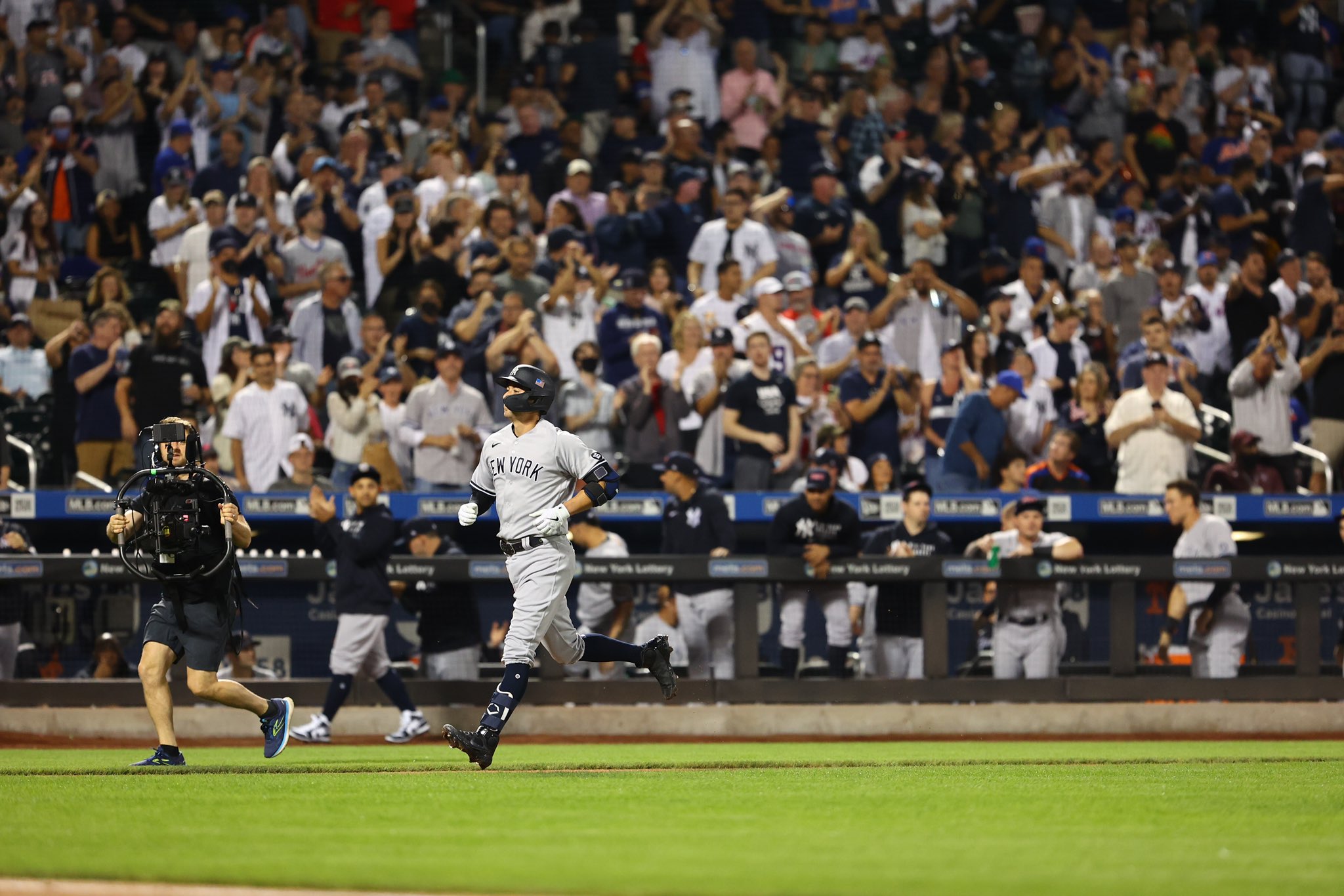 Brett Gardner walloped a two-run round-tripper of his own to right-center. Judge drilled a solo smash to center as well. It marked the first time all season that the Yankees hit three homers in the same frame.
Gardy and Judge make it 5. pic.twitter.com/zO66th77d9

— New York Yankees (@Yankees) September 12, 2021
Stunningly though, the Yankee bats seemed to fall asleep, with Walker retiring 13 consecutive batters. On the bump, it also looked like Corey Kluber and the bullpen would never record an out from that point.
During the home half, Pillar's RBI double to left got the Mets on the board. McCann followed with an RBI triple that eluded Judge in right. Walker helped his own cause with an RBI single to right.
The Mets edged closer in the fourth frame on a Baez blast to left.
With Chad Green on in the sixth, it looked as though nearly two decades after Mike Piazza played the hero, the Mets' present backstop McCann tried to play the part, drilling a laser two-run homer to left for the orange and blue's first lead of the evening.
For insurance, Pillar lined a run home off Clay Holmes in the seventh stanza.
However, the Yankees would get up off the mat in the eighth inning. Facing Trevor May, who said he was oh so relieved this series was being played in the Mets' cavernous ballpark instead of Yankee Stadium. Yet, he couldn't hold Judge in the yard, as the Yankee All-Star right-fielder followed a Gardner single with a towering tying tater to left. Different stage, obviously, but there were certainly some Derek Jeter, sixth inning, game-tying home run vibes from Game 5 of the 2000 World Series.
Different stage, obviously, but the same vibe. #Yankees https://t.co/0w1uMkyeW7 pic.twitter.com/3vtJ5uziXC

— Mike Gwizdala (@MikeGwizdala) September 12, 2021
As the inning moved along, a Giancarlo Stanton single sent May packing. Andrew Velazquez pinch ran for Stanton and reliever Aaron Loup got Anthony Rizzo to fly out to right. Gleyber Torres singled on a grounder to short. Pinch hitter Luke Voit grounded into a force out at second but Baez airmailed the potential twin killing, enabling, fittingly, the Bronx-born boy to score the eventual game-winning run on this night.
Luke Voit puts it in play and Andrew Velazquez scores on the overthrow! Yankees lead 8-7! pic.twitter.com/bRMeLCOxsp

— YES Network (@YESNetwork) September 12, 2021
It's never cut and dry with Aroldis Chapman on the hill. He got some help from his defense. Judge made a nice diving snag to rob Baez for the first out.
In Judge we trust. pic.twitter.com/CnyTAV1CLL

— New York Yankees (@Yankees) September 12, 2021
Pinch-hitter J.D. Davis hit a ground-rule double to right, which probably would've been a single if not for the short wall. Pillar struck out swinging and some quick thinking by Higashioka on the bounced third strike, cut down Pillar at first base, as Davis scampered to third. Chapman got McCann to appropriately fly out to Judge to end the contest.
GAME 3
It was yet another instance with Lindor where across the past few years the Yankees get burned with the "last laugh," be it Jose Altuve with Houston, Mike Brousseau with Tampa, playing "New York, New York" on the boom box against Boston, etc. You can't let that happen but alas here we are and the Mets were able to hang an 8-7 loss on the Yankees.
Again the Yankees took an early lead in the first frame. Facing Carlos Carrasco, Stanton lined an RBI double to left. A Gallo sac-fly doubled the lead.
Doing damage early 💪 pic.twitter.com/e645BiQDss

— New York Yankees (@Yankees) September 13, 2021
The Mets would counter against Clarke Schmidt, who wasn't great but honestly not much worse than any other Yankee starter of late. During the home half, the Mets cut the Yankee lead in half on a Michael Conforto RBI single to left. During the second stanza, a botch by Torres on a grounder by Pillar, set up an eventual three-run homer to right-center by Lindor.
With the bases loaded in the fifth and Andrew Heaney on in relief with one out, incredibly he got out of the inning with only yielding a sac-fly to right by McCann.
During the sixth inning, Torres would make up for two of those runs earlier, taking Jeurys Familia yard to left with a two-run tater.
Ice, Ice, Gleyby. pic.twitter.com/uD1q5XEorV

— New York Yankees (@Yankees) September 13, 2021
Yet, in the home half, the Mets shortstop would respond, as Lindor took Wandy Peralta deep. Circling the bags, Lindor made taunting whistling gestures, accusing the Yankees of whistling on Walker's tipped pitches the evening prior.
The Bronx Bombers didn't take that sitting down in the seventh inning. Facing Miguel Castro, LeMahieu led off with a single. With Brad Hand on, Baez botched a potential double-play ball. Gardner, who pinch-hit earlier for Judge, who left with dizziness, struck out. However, Stanton would come through, launching a two-run crank job to center and offering up some smack talk to Lindor and Baez, as the benches cleared.
He's G. pic.twitter.com/7EEjkVchlW

— New York Yankees (@Yankees) September 13, 2021
Unfortunately, as I mentioned up top, Lindor would get the last laugh against Green, clocking a solo bomb to right-center in the eighth inning, flashbacks of the 2017 ALDS.
Finally, in an unfortunate turn of events, with two on and two out against Edwin Diaz, Stanton popped out to Lindor to end the contest.
ON DECK
At 79-64, the Yankees will host the Minnesota Twins in a one-game makeup contest at Yankee Stadium on Monday afternoon.
Pitching probable, John Gant vs. Luis Gil.