ATLANTA, Ga. — In a battle of red-hot eastern powers, the New York Yankees kept rolling against the Atlanta Braves. With the mini-sweep, the Yankees won their tenth straight series for the first time since 1954. They also ran their winning streak to 11 consecutive games, the longest run since 1985. Hence, the club finds itself in terrific shape as they head out to the West Coast.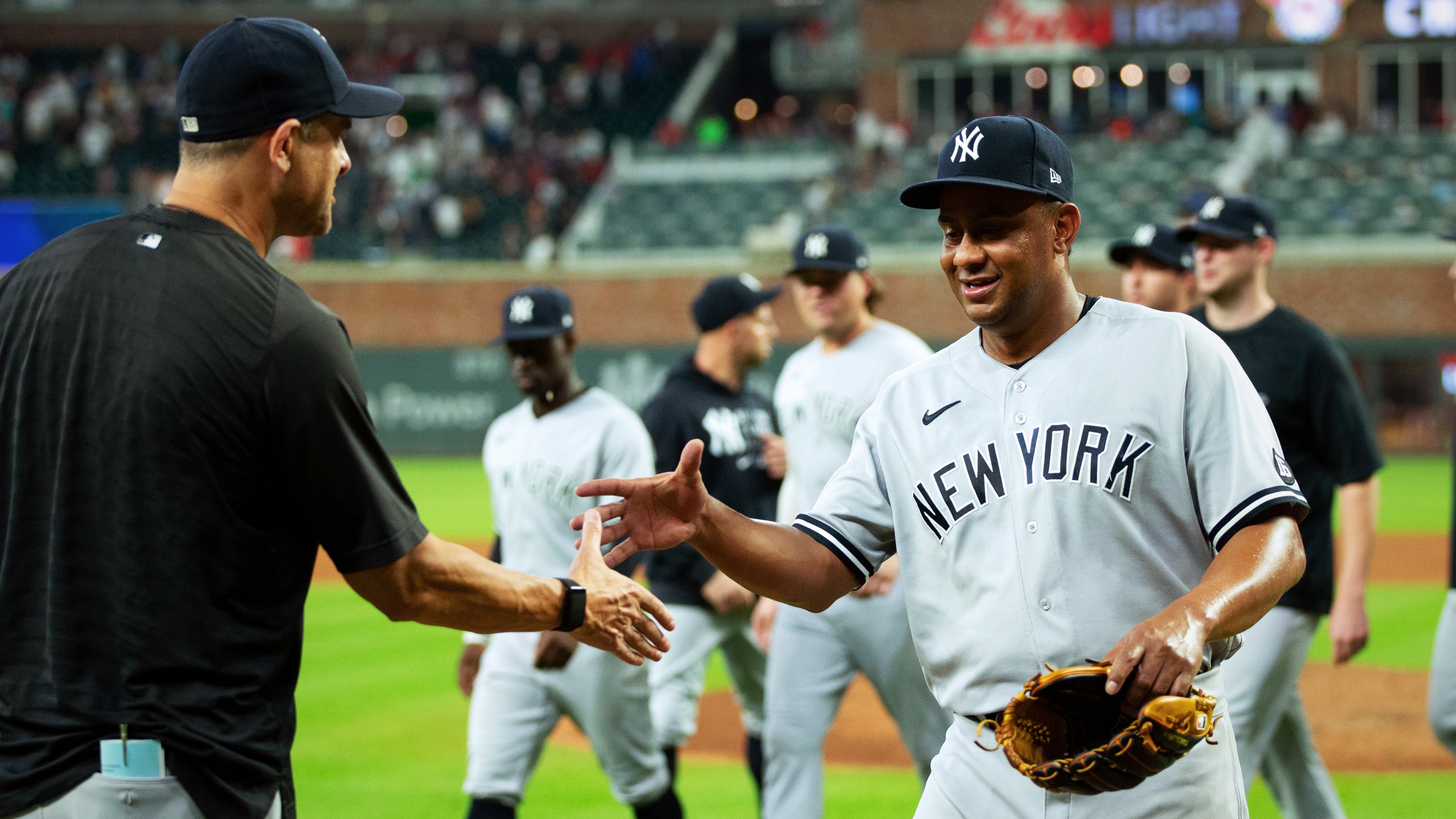 GAME 1
Hurricane Henri couldn't disrupt the Yankees' momentum. Landing in the ATL, New York partied like it was 1999 and '96 and well, you get it. In sum, it was a smooth 5-1 victory against an equally hot Braves team that was also riding a nine-game winning streak.
STANTLANTA
That 'new outfielder' Giancarlo Stanton is pretty good. Stanton put on a show against the Bravos. During the second stanza, Stanton drilled a 2-2 slider from Huascar Ynoa into the right-field stands for a 1-0 edge.
After the Braves squared the score on a Dansby Swanson solo homer off Jordan Montgomery in the home half, Stanton struck again.
In the top of the sixth, Stanton smashed a two-run double to left and gave the Yankees the lead again.
MARIAN-LO RIVERA
Relax Sparky, I'm not saying Jonathan Loaisiga is Mariano Rivera. Yet, it was fun to watch Lo assume the '96 role when we first fell in love with Mo. Entering in the sixth inning, Loaisiga struck out four across a pair of scoreless frames.
PADDING IT OUT
Honestly, there's no such thing as a 'tack on run' with this squad. Providing New York with some insurance was Gary Sanchez. In the eighth inning, Sanchez collected a two-run base knock to left, off Edgar Santana, making the score 5-1.
GAME 2
Whew, and we're back to "it's never easy" territory with these Yankees. Thankfully, the Yankees squeezed out enough magic for the 5-4 victory.
Do you get déjà vu, huh?
In the early going, many of the same culprits were at work. During the first frame, after getting squeezed on a two-out, ball four call to Freddie Freeman, it nearly unraveled for Andrew Heaney. Heaney hit Austin Riley with a pitch and then Swanson doubled both of them home with a drive to center.
However, as he did in the prior contest, Stanton went yard again in the second stanza, pelting a 2-2 curveball from Charlie Morton into the left-centerfield seats.
Another Day, Another Giancarlo Home Run. pic.twitter.com/aD02SLy5uQ

— New York Yankees (@Yankees) August 24, 2021
New York built on that lead thanks to a nice piece of hitting by Sanchez, who singled home a run to right in the fourth frame.
Keep calm and Gary on. pic.twitter.com/PPta2lCWKj

— New York Yankees (@Yankees) August 25, 2021
Following that up in the fifth frame was DJ LeMahieu with a two-run round-tripper to left.
Come Mr. DJ won't you turn the music up. pic.twitter.com/L1oCislxt1

— New York Yankees (@Yankees) August 25, 2021
However, during the home half, the Braves got one back after Albert Abreu allowed a pair to reach with one out. With Joely Rodriguez on, Riley singled home Ozzie Albies but thankfully for the Yankees on the same play Freeman was ruled out at the plate on a throw from Andrew Velazquez. He looked pretty safe but that's baseball Suzyn.
In the seventh inning, the Yankees got one of those tack-on, not-so-tack-on runs. Rougned Odor socked a 2-2 fastball from Chris Martin deep to right, increasing the Bronx Bombers advantage to 5-2.
Rougie Nights 🔊@RougnedOdor 💪 pic.twitter.com/gt2M85eCM6

— New York Yankees (@Yankees) August 25, 2021
During the ninth inning, Aroldis Chapman was sweating bullets but he sure wasn't throwing them. He appeared to have next to no confidence throwing his bread and butter over the plate and looked lost. In his defense, Chapman probably should've been out of the inning on the Albies hit to third that Odor couldn't throw to first on time. Should the Yankees have inserted Tyler Wade at third base for defense? Perhaps. After that, Chapman would issue a free pass to Jorge Soler with the bases loaded and Atlanta cut the New York lead to one.
That was enough for manager Aaron Boone, who called on Wandy Peralta. After a full-count, nine-pitch, at-bat, Peralta got Freeman to fly out to Joey Gallo in left to end the game.
ON DECK
At 74-52, the Yankees travel to Oakland to take on the Oakland Athletics for a four-game set starting Thursday evening.
Pitching probables, Jameson Taillon vs. James Kaprielian, Gerrit Cole vs. Sean Manaea, Nestor Cortes Jr. vs. Frankie Montas, Jordan Montgomery vs. Paul Blackburn.