BOSTON, Mass. — The New York Yankees waltzed into Beantown and brought their swagger. These Bronx boys busted out the bats in a big way and stomped on the Boston Red Sox in a crucial series sweep. With the sweep, the Yankees have a one-game lead for the top AL Wild Card spot and control their own destiny from here on out.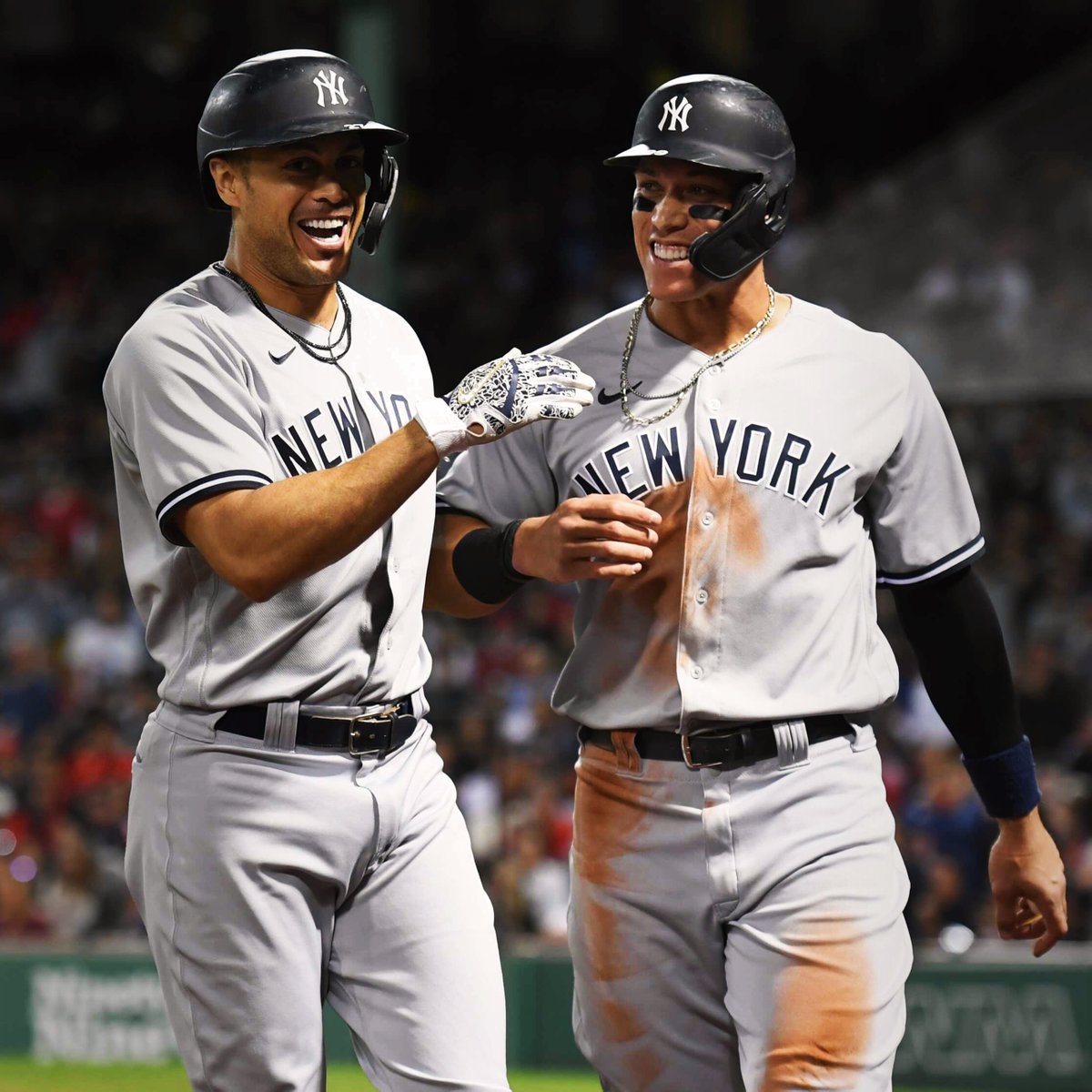 GAME 1
This is the Yankee team we expected all season. They came into Boston looking fresh and focused and took it to the Red Sox in an 8-3 victory.
It only took about five years but Nathan Eovaldi finally helped out the Yankees in September. New York jumped on the Boston ace early. The first frame featured a hitting barrage. DJ LeMahieu and Anthony Rizzo collected consecutive singles. Aaron Judge doubled to center for the first run. A Giancarlo Stanton ground out doubled the lead. With two down, a Gleyber Torres single to center increased the advantage to 3-0.
Swingin' to start it up. pic.twitter.com/hNXHyVNYsj

— New York Yankees (@Yankees) September 24, 2021
New York was back for more in the third inning. Stanton drilled a three-run homer into the bullpen in right, as the Yankees went up by a touchdown.
The G-Man Can. pic.twitter.com/A9nrbcBDT1

— New York Yankees (@Yankees) September 25, 2021
Later in the frame with two down and two on and Kyle Higashioka facing Hirokazu Sawamura, the Red Sox completely botched an infield fly and Joey Gallo hustled around to score.
On the bump, Gerrit Cole looked stronger and posted a representative outing. Cole shoved for six strong, fanning six. His blemish came in that sixth inning, yielding a three-run homer to right to Rafael Devers.
Yet, the Yankees would get one run back as the relaxed second baseman Torres drilled a solo shot to dead center off Martin Perez. Thank you Alex Cora for that matchup.
Gleyby One More Time. pic.twitter.com/JkxECp5PDq

— New York Yankees (@Yankees) September 25, 2021
From there, the fresh bullpen was lights out. Clay Holmes, Wandy Peralta, and Chad Green were practically flawless the rest of the way.
GAME 2
In the early going this felt like the Cleveland series, where the Yankees followed up a big win with a clunker. Yet, as afternoon turned to night in Boston, New York came through late to secure the 5-3 victory.
It wasn't Roger Clemens vs. Pedro Martinez but Nestor Cortes and Nick Pivetta essentially kept both offenses at bay.
The Bosox broke through in the third inning, as Kevin Plawecki drilled a cutter off the light tower in left.
Boston would double its lead in the fifth frame after a Michael King wild pitch enabled Kyle Schwarber to score. If could've been a worse inning if early Judge hadn't robbed Bobby Dalbec of a possible homer to right.
Judge Robbery 👨‍⚖️ pic.twitter.com/Ihb7kU4DT3

— New York Yankees (@Yankees) September 25, 2021
However, the midnight navy blue and gray would benefit from a Red Sox wild pitch in the sixth inning from Hansel Robles, enabling Gio Urshela to score. Though they wouldn't quite capitalize on the moment, as Brett Gardner, on the contact play, was cut down at the plate after Judge chopped to third.
During the eighth inning, the Yankees would take full advantage of the situation, and some Cora miscues. Facing Tanner Houck with two down, Gardner walked and stole second base. The ensuing batter Judge also drew a free pass. In a somewhat dubious move, Cora opted for lefty Dawinzon Hernandez against Rizzo, who hits much better against lefties. Hernandez nearly walked Rizzo before plunking him. That set it up for Stanton, who could sense Hernandez's desperation to throw a strike and he made him pay dearly. Stanton destroyed a first-pitch fastball out of the park in left and that ball is probably vacationing in Maine by now. The grand slam made it 5-2 Yankees.
Let the boys be boys… SLAM. pic.twitter.com/rtdlOp23EU

— New York Yankees (@Yankees) September 25, 2021
From King and Lucas Luetge, to Luis Severino and Aroldis Chapman, the bullpen bared down again. Severino was especially electrifying in his two frames, evoking his relief work in 2016. Severino fanned four in his two scoreless frames. While Chapman allowed a solo homer to Dalbec, he would settle down and close out the game.
GAME 3
Well, this game had quite the twists and turns. In the end, it was the Yankees' big bats capitalizing for a 6-3 win.
In the early going it was Jordan Montgomery and Eduardo Rodriguez pitching to soft contact. The Red Sox scored first on a J.D. Martinez sac fly to left in the fourth frame. The Yankees countered during the fifth frame, in what could've been a bigger inning. With the bases loaded and zero outs, Urshela grounded into a double play, as the Yankees evened the game at one. A LeMahieu liner to right put the Yankees ahead 2-1.
He is The Machine. pic.twitter.com/SLokeEdMJB

— New York Yankees (@Yankees) September 27, 2021
Things got really weird in the seventh inning. After Holmes struck out the side on 11 pitches in the sixth inning, Aaron Boone took the bait from Cora's maneuvers and pulled him for Joely Rodriguez. Rodriguez allowed a single to Jose Iglesias, a bunt single to Alex Verdugo, uncorked a wild pitch, and allowed a run to score on a sac fly by Christian Vazquez to right. Green was brought on and struck out Enrique Hernandez. The ensuing batter and pinch-hitter Kyle Schwarber fooled not one but two Yankee fielders. LeMahieu, who had a stellar game in the field otherwise, didn't take into account that foul pops usually come back at Fenway Park and muffed the pop-up. Then Schwarber lifted one to left that was botched by Gallo, who alertly threw out Schwarber attempting to advance to second base but not before Verdugo crossed home plate with the go-ahead run.
The oddities continued into the eighth inning but this time the Yankees were the beneficiaries. Facing Garrett Richards, Urshela coaxed a walk and was pinch-run for by Tyler Wade. On what looked like a cross-up where LeMahieu didn't swing, Wade was caught stealing at second base. LeMahieu drew a walk. Rizzo smoked a double to right and chased Richards from the game. With ex-Yankee Adam Ottavino on, Judge took advantage of a botch on a foul pop by the first baseman Dalbec and a blown call on what clearly wasn't a dropped foul tip for a third strike. With the call not reviewable, Judge drove the next pitch to left-center for a two-run double and a 4-3 lead.
The Judge. For the lead. pic.twitter.com/at3IM9OmeG

— New York Yankees (@Yankees) September 27, 2021
For the exclamation point, Stanton drilled an 0-1 slider beyond the Green Monster for a 6-3 advantage. What a monster series for Stanton, who drove in 10 runs, while the Red Sox as a team scored nine.
Ladies and gentlemen, Big G has left the building. pic.twitter.com/leXl5sI4YV

— New York Yankees (@Yankees) September 27, 2021
From there, Green and Chapman sealed the deal in the eighth and ninth innings respectively.
ON DECK
At 89-67, the Yankees travel to Toronto to face the Toronto Blue Jays for a three-game set starting Tuesday evening.
Pitching probables, Jameson Taillon vs. Hyun Jin Ryu, Gerrit Cole vs. Jose Berrios, Corey Kluber vs. Robbie Ray.