BRONX, N.Y. — The New York Yankees finally took care of business. For better or worse, they certainly did it their way against the Tampa Bay Rays. Yes, they undoubtedly cost themselves home-field advantage in the American League Wild Card Game given the sum of their series loss against the Rays but the Yankees were able to avoid traveling to Toronto for Game 163. All that counts now is that the Yankees are in the postseason for the fifth consecutive season and they have an opportunity to win a dozen more games and World Series title No. 28.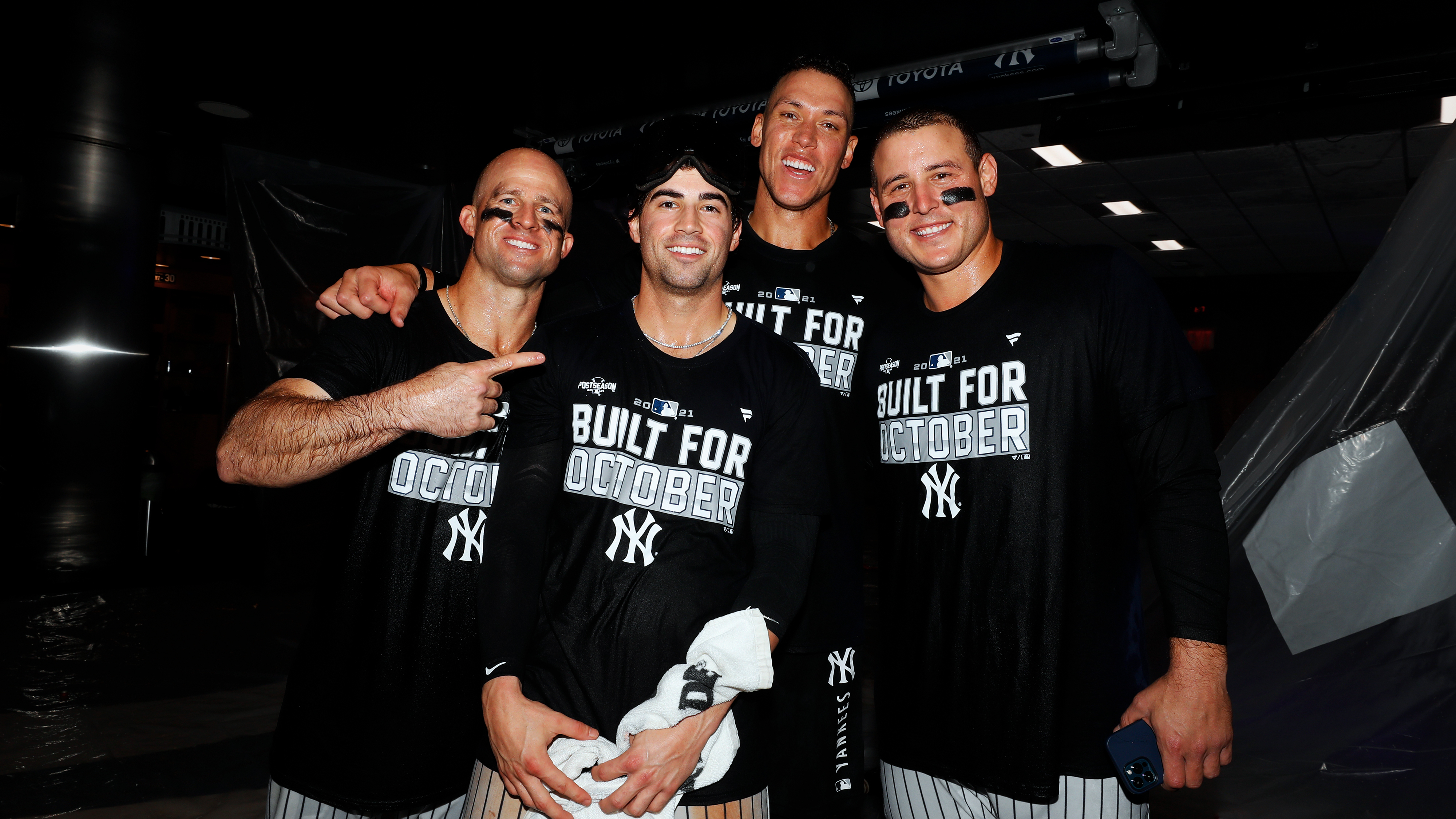 GAME 1
Chalk it up to complete mismanagement, no feel for the situation, and zero sense of urgency. Manager Aaron Boone played this contest as though it was May 1 instead of Oct. 1. It was complete organizational chaos too. Albert Abreu was brought up, deemed good enough to pitch the ninth inning, and then sent out the next day for utility infielder Andrew Velazquez. Oh, and DJ LeMahieu, who needs hernia surgery, was clogging up the bench. Complete mismanagement in a 4-3 loss.
The Rays struck first, as Nelson Cruz took Nestor Cortes yard to left in the first frame.
Yet, the pinstripes responded against Shane McClanahan in the home half. Giancarlo Stanton drove home Gleyber Torres with a laser single to right.
G&G connection. pic.twitter.com/3evozxtTYo

— New York Yankees (@Yankees) October 1, 2021
Tampa regained the advantage in the second stanza, as Kevin Kiermaier singled just above the reach of a leaping Gio Urshela at shortstop, plating Manuel Margot.
While the offense languished, relievers Clay Holmes, Wandy Peralta, and Jonathan Loaisiga clamped down and kept it close.
Then Boone decided to get weird. During the eighth inning, he decided that now was the time to see what Domingo German had going for him. While German pitched a scoreless frame, he recorded a strikeout and walked two before being yanked in the ninth inning. That's when Boone got stupid. In Game 160, with what should be all hands on deck (and enough with the load management!) he goes to Abreu.
Abreu nearly got a double play but Randy Arozarena beat out the return throw. After Arozarena stole second, Abreu allowed a two-run single to center to Wander Franco, making the score 4-1.
The Yankees would build something of a rally in the home half. Facing Andrew Kittredge, Giancarlo Stanton and hits heads up base running, lined a one-out double to left. Stanton moved to third on defensive indifference, as the Rays deployed four outfielders. Joey Gallo took advantage of the shift as well, laying down a bunt single to the left side, plating Stanton.
Urshela followed with a single to right. Brett Gardner followed suit with an RBI single to right.
Alas, a pair of poor at-bats by Gary Sanchez and Rougned Odor, led to consecutive strikeouts and the end of the game.
GAME 2
If you thought the lack of urgency was poor in the first game, well, Boone and the Yankees made sure to top that in the Saturday matinee. Facing a rookie pitcher and a Rays team with nothing to play for, Boone fiddled while the Yankees burned and Jordan Montgomery melted on the mound. Oh, and please spare me your "those Brandon Lowe homers would've been outs in 29 other ballparks," it's baseball, every park has different dimensions! Plus, Ken Singleton announced he's retiring from announcing in the YES Network booth, so that made me extra sad too. It all ended with a Judge and Gardner yelling at Torres for his lack of "care factor" and a 12-2 drubbing.
A three-run homer to the porch by the aforementioned Lowe made it 3-0 in the first frame.
Anthony Rizzo fired the lone return salvo in the home half. Michael Kay thought it tied the game. Alas, it did not. Although you could hardly blame the Kayster for wanting more runs in an inning where the Bronx Bombers mustered one run after making Shane Baz throw 30 pitches.
Deep to right Rizzo. pic.twitter.com/FZjtZzieT2

— New York Yankees (@Yankees) October 2, 2021
The Rays offense would return for a flood of more home runs. During the third inning, Lowe ripped his second three-run round-tripper to right, and Boone stood there on the top step of the dugout with no sense of alarm. Mike Zunino followed with a solo bomb to left. After a Margot double and an Austin Meadows flyout, Boone finally pulled Montgomery. He then went Lucas Luetge a day late, after not using him in a close game the night prior, warmed up and left in the bullpen. That made zero sense. Go figure.
The Yankees would chip another run out as Urshela tripled home Gallo in the fourth frame off ex-Yankee J.P. Feyereisen. Yet, with one out and Urshela on third, they squandered the opportunity as both Gardner and Sanchez popped out.
Tampa would tack on from there, Franco singled home a run off Luetge in the sixth inning. Michael King was brought for some reason with an 8-2 deficit and allowed Lowe's third home run of the afternoon in the seventh inning. Capping off the Rays offense was Meadows with a three-run homer off Joely Rodriguez later in the frame.
GAME 3
Oh wow, the Yankees pulled it all together and scratched out a 1-0 victory! There were some twists and turns and finally a timely hit in the end. Oh and the Bronx Bombers sent YES Network broadcaster Ken Singleton out a winner as well!
Lookout! Thank you to Ken Singleton for throwing out today's first pitch. We celebrate the broadcasting career of Yankees' YES Network Broadcaster @29alltime, who has announced his retirement after 20 seasons of broadcasting on YES. pic.twitter.com/TbXpCEdU6S

— New York Yankees (@Yankees) October 3, 2021
Jameson Taillon proved himself to be a gamer. Taillon churned out 3.1 scoreless frames and probably would've pushed further had Boone allowed him. During that fourth frame with Wandy Peralta on with one out, a Meadows double, and a Ji-Man Choi walk had the Rays on the move. Thankfully Odor was able to retire the lead runner on a ground out by Zunino. That was also big because Peralta would uncork a wild pitch. The third out came on a hot smash from Wendle that Torres turned and fired to first for the final out.
Nice play, Gley. pic.twitter.com/MYeyMf71Dk

— New York Yankees (@Yankees) October 3, 2021
Speaking of gamers, in the sixth inning with Chad Green on for Clay Holmes and two outs, Urshela made a remarkable grab on a foul pop by Meadows and went flying into the Rays dugout for the final out of the frame. It was an incredible all-out effort by Urshela.
OH MY GIO URSHELA ‼️‼️‼️ 👀👀👀

Watch the #YANKSonYES and stream it on the YES app: https://t.co/0cgHA97Iau pic.twitter.com/Ls1cNAYkoB

— YES Network (@YESNetwork) October 3, 2021
A fresh Jonathan Loaisiga would pick up Green, who allowed two Rays to reach in the seventh inning. Lasagna got Lowe to foul out to Odor at third. Lo also pitched in and out of trouble for a scoreless eighth inning.
Aroldis Chapman also held the Rays off the board in the ninth inning.
After recording one hit (Torres) through eight frames, the pinstripes mounted a rally in the home half. Odor fought off a Josh Fleming sinker for a hit to center. Tyler Wade pinch-ran for Odor and tagged to second on a Torres flyout to center. A single to right by Rizzo moved Wade to third and Rizzo advance to second on the throw home by Arozarena. With Kittredge on, Judge lined an infield single that deflected off the pitcher's glove and Wade darted home for the winning run!
All Rise to the Occasion. pic.twitter.com/EOtbLMglep

— New York Yankees (@Yankees) October 3, 2021
ON DECK
At 92-70, the Yankees clinched the second AL Wild Card and will face the Boston Red Sox at Fenway Park on Tuesday night.
Pitching probable: Gerrit Cole vs. Nathan Eovaldi.