BRONX, N.Y. — Well, the New York Yankees finally finished off a sweep. They took care of business at home, against a terrible Texas Rangers team. Hence, the club is back in a postseason position and while they'll probably need to run the table given everyone's respective schedules, they still control their own destiny heading into Boston.
Can't knock the energy. #SquadUp pic.twitter.com/7F2gNsYmnB

— New York Yankees (@Yankees) September 23, 2021
GAME 1
The victory never felt in doubt but the 4-3 final was certainly more than close for comfort. It was almost as if the Yankee bats went on autopilot.
The Bronx Bombers jumped on the board in the second stanza against A.J. Alexy, as Gary Sanchez smashed a solo homer to left.
Kraken Rakin' pic.twitter.com/OxZB9LtzMh

— New York Yankees (@Yankees) September 20, 2021
New York added the rest of its runs in the third inning. Aaron Judge singled home a run. Giancarlo Stanton lifted a sacrifice fly to center. Gleyber Torres capped it off with an RBI single to right.
3 more runs in the 3rd 💪 pic.twitter.com/XtAENUhAkC

— New York Yankees (@Yankees) September 21, 2021
It was a bend but don't break kind of evening for Nestor Cortes. He fashioned seven Ks, which helped him bounce back from being on the ropes in the early going. The Rangers would break through in the fifth frame though. Charlie Culberson homered to left. Isiah Kiner-Falefa doubled home a run to right. With one down, Cortes was yanked for Chad Green, who yielded a sac fly to center by Adolis Garcia but didn't incur any further damage.
The rest of the Yankee bullpen would carry the load to the finish line, between Clay Holmes, ex-Ranger Joely Rodriguez, and Aroldis Chapman, holding Texas scoreless.
GAME 2
Well, fancy that, some run support for Jordan Montgomery. Finally, the Yankees busted out a laugher against the Rangers in their 7-1 victory.
After a Stanton ground out provided New York with a first inning edge, the Yankee right fielder hit an absolute pank shot off Dane Dunning to left in the third inning.
118.5 mph off the bat. That'll do. pic.twitter.com/nTC303zQVM

— New York Yankees (@Yankees) September 22, 2021
Both teams traded a run, Texas via a ground out from ex-Yankee farmhand Nick Solak in the fourth frame and the Yankees with an Anthony Rizzo RBI single to left in the fifth frame off Kolby Allard.
The power got cranked up again at Joey Gallo victimized his old club by parking a solo bomb into the BP Crew seats during the sixth inning.
We're far from the Gallo now. pic.twitter.com/7yQVbFnuub

— New York Yankees (@Yankees) September 22, 2021
Judge all but put the contest in doubt by crushing a three-run blast to right-center off Dennis Santana in the seventh inning.
Order in the Bronx 🧑‍⚖️ pic.twitter.com/jJoR3hzvdt

— New York Yankees (@Yankees) September 22, 2021
On the bump, the Yankee arms impressed. Montgomery fanned six, scattered four hits and walked one in 5.2 frames. Michael King continued his stellar production out of the pen with 1.1 scoreless frames and three Ks.
Concluding the contest for the first time this season was Luis Severino. Coming off a groin pull injury, Severino survived the raindrops with his fastball and slider, tossing two scoreless innings with a pair of Ks.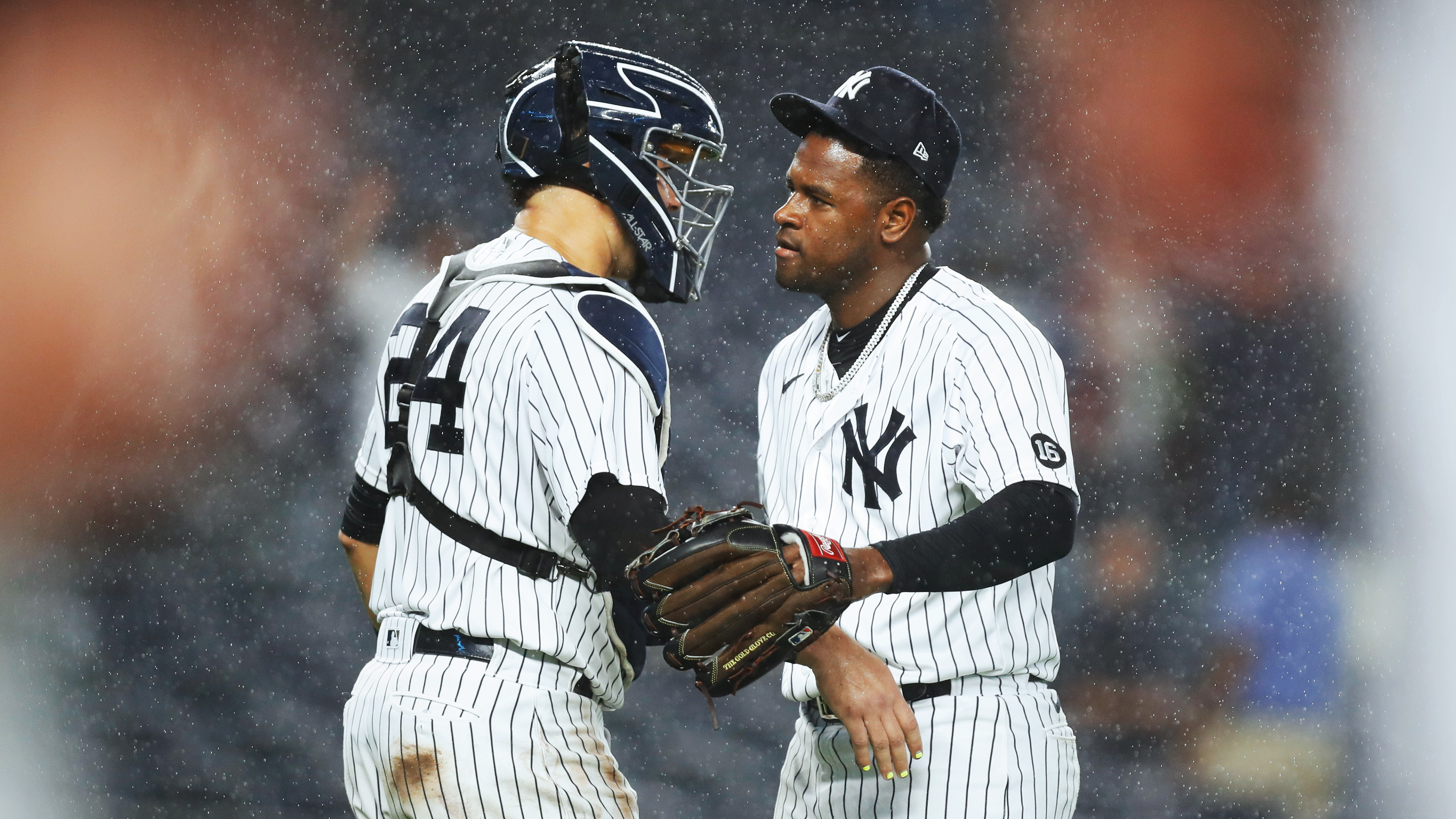 GAME 3
From looking dicey early to sitting pretty with a late rally, the Yankees pushed past the Rangers with a 7-3 win.
Corey Kluber took a bit of a step back from his previous outing. He wasn't helped by the defensive alignment but still, far removed from his no-hitter early in the season at Texas. Kluber yielded three runs on eight hits in 4.1 frames.
The Rangers were staked to a 1-0 edge on a Willie Calhoun single to right in the second stanza. Texas doubled its lead as Brock Holt looped a ball beyond the reach of LeMahieu at third base in the fourth frame. Kiner-Falefa added to the lead with an RBI single to left in the fifth frame. Luckily Wandy Peralta was able to come on with one out to hold the Rangers from scoring more runs. It was the start of another perfect evening from the bullpen.
During the home half, the pinstripes made their push back. Kyle Higashioka plated a pair on a double to center off Taylor Hearn.
Higgy Pop 💥 pic.twitter.com/V6Zst8jrA5

— New York Yankees (@Yankees) September 23, 2021
A wild pitch by Santana enabled Judge to scamper home for the equalizer in the sixth inning.
After squandering an opportunity in the seventh inning, the big rally came in the eighth inning. With two down, Gallo looped a double to left off Spencer Patton. The ensuing batter Torres, lined an RBI double to right for the go-ahead run.
Gleyber in the clutch. pic.twitter.com/79wK8SxIIY

— New York Yankees (@Yankees) September 23, 2021
Torres would come around to score on an Urshela infield single and error by second baseman Yonny Hernandez.
Gary hours of the night. pic.twitter.com/ME64lgZayv

— New York Yankees (@Yankees) September 23, 2021
Capping off the offensive attack was Sanchez, who entered after Tyler Wade pinch-ran for Higashioka in the seventh inning. Sanchez, who threw out a runner in the top half of the frame, knocked one out to Monument Park for a two-run tater.
Chapman sealed the deal with a flawless ninth inning.
ON DECK
At 86-67, the Yankees head to Boston to take on the Boston Red Sox for a three-game set on Friday evening at Fenway Park.
Pitching probables, Gerrit Cole vs. Nathan Eovaldi, Nestor Cortes vs. Nick Pivetta, Jordan Montgomery vs. Eduardo Rodriguez.