BRONX, N.Y. — Pitching, and defense wins championships. The New York Yankees had it all going with their starters tying a record from 1932 and establishing a new franchise mark as well. They also turned their first triple play since 2014, plenty of double plays too, Miguel Andujar, Brett Gardner, and DJ LeMahieu making web gems, Aaron Judge throwing out runners. Plus, there was some 2009 flavor with the walk-off wins too.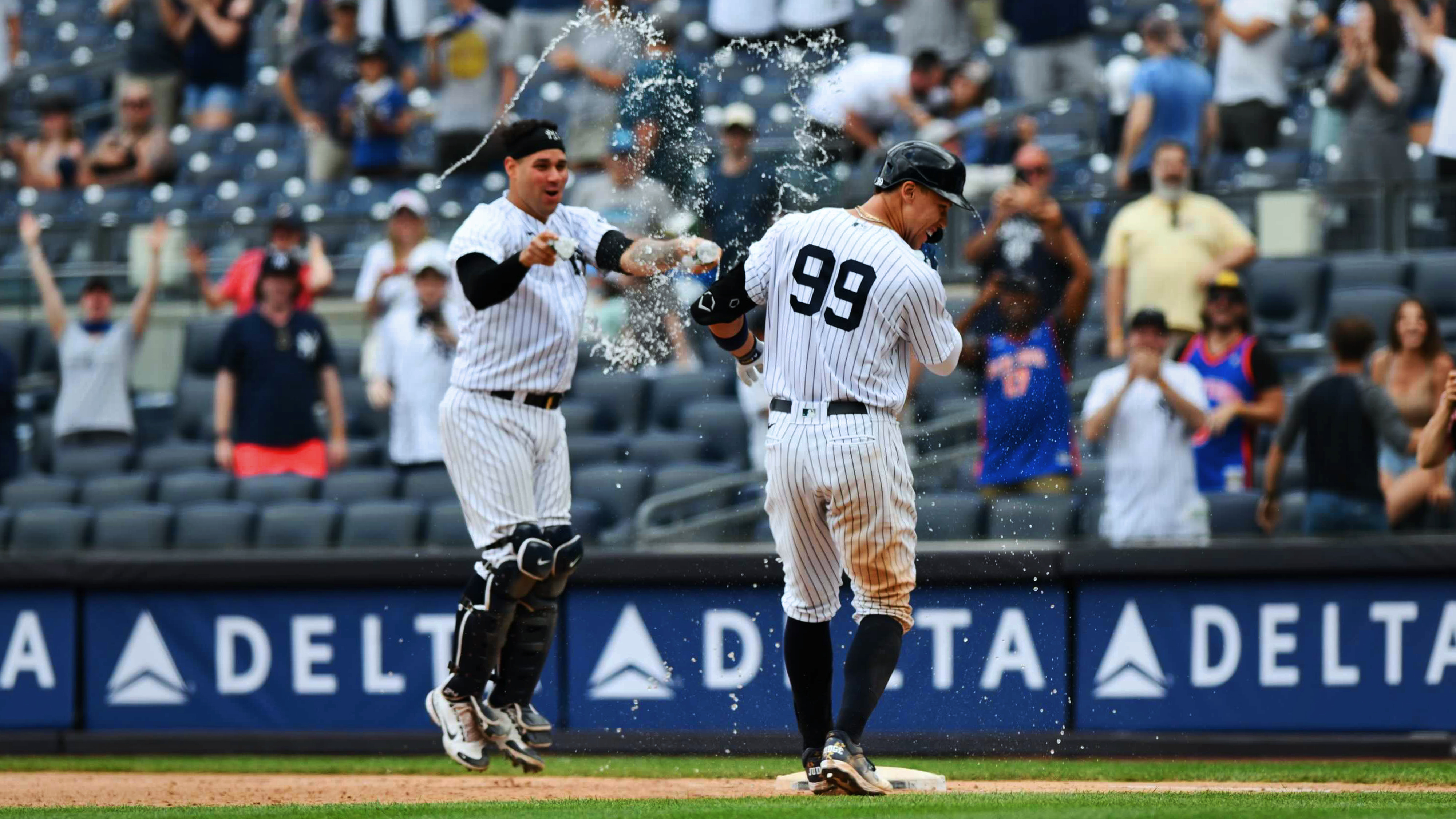 Oh, and they finally sealed the deal and finished off the three-game sweep of the Chicago White Sox. Yes, the American League Central is a disaster but the ChiSox did enter the series with the best ledger in the AL. So, it was a nice statement series for the pinstripes. It also extended the Yankee winning streak to six straight.
Rolltation 🔥 pic.twitter.com/9m5GQdiYor

— New York Yankees (@Yankees) May 23, 2021
GAME 1
This contest had a little bit of everything for everyone in the 2-1 Yankee victory. Carlos Rodón (13 Ks) and Jordan Montgomery (11 Ks) were dealing on the bump. Montgomery even picked up his defense in the seventh inning after an Andujar error in left, whiffing Yasmani Grandal to cap off his impressive night against a lineup that came in crushing lefties.
Career-high 11 Ks for Monty 🔥 pic.twitter.com/UoR6gKYzUC

— New York Yankees (@Yankees) May 22, 2021
The Bronx Bombers were relieved as Michael Kopech tried to relieve Rodón in the home half of the seventh stanza and Gleyber Torres capitalized. The Yankee shortstop porched a 3-1 fastball for a 1-0 edge.
There goes our Gleyby. pic.twitter.com/UOmCMgHal6

— New York Yankees (@Yankees) May 22, 2021
Conversely, the White Sox took advantage of Jonathan Loaisiga entering in the eighth inning. Loaisiga walked Adam Eaton and uncorked a wild pitch to move Eaton to second base. A Tim Anderson ground out advanced Eaton to third base. A nice piece of hitting by Nick Madrigal lofted an equalizer single to right. Yet, Madrigal would be erased for the second out on a beautiful deke by Judge and throw to Torres for the second out. A Jose Abreu ground out to Torres ended the inning tied at one.
You can score that one 9-6. pic.twitter.com/jdCUb9XTxk

— New York Yankees (@Yankees) May 22, 2021
The Yankees nearly scored in the bottom of the eighth but for whatever reason chose not to send pinch-runner Tyler Wade home from second base on a hit by Brett Gardner to left.
There was plenty more solid defense in the ninth inning with Aroldis Chapman on the bump. With two on and zero out, Chapman got Andrew Vaughn to bang into the 5-4-3 triple play.
Triple play!!! 🔥🔥🔥

That's the Yankees first they've turned since April 17, 2014 (@ TB). https://t.co/nCK0GuQ680

— YES Network (@YESNetwork) May 22, 2021
Facing Evan Marshall in the bottom of the ninth, three consecutive singles from Judge, Gio Urshela, and Torres did it. Torres was the walk-off hero with a knock to left.
The @Yankees turned a triple play and won via #walkoff in the same game for the first time in franchise history.

h/t: @EliasSports pic.twitter.com/gNHhxx9rKb

— MLB Stats (@MLBStats) May 22, 2021
It marked the first time in MLB history a team has achieved a no-hitter, triple play, and a walk-off win in a three-day span.
GAME 2
It was a pretty self-explanatory 7-0 blanking by the Yankees. Torres kept up his torrid hitting. Gerrit Cole was in complete control as well.
Starter Pack pic.twitter.com/ErdiOH8kOS

— New York Yankees (@Yankees) May 22, 2021
Facing Dylan Cease in the fourth frame, Torres doubled home a pair with a drive to left.
Double down. pic.twitter.com/EzSLfmmS91

— New York Yankees (@Yankees) May 22, 2021
Rougned Odor traded places with Torres to extend the lead to 3-0.
The Yankee shortstop was back for more in the fifth inning, lining a two-run single to left off Matt Foster.
Gleyber groovin' 🕺 pic.twitter.com/aYAPkMAWx1

— New York Yankees (@Yankees) May 22, 2021
A Mike Ford moonshot homer off a 1-1 changeup from Foster in the sixth inning to right-center made it 6-0.
MF Boom pic.twitter.com/hYPZxYdqM7

— New York Yankees (@Yankees) May 22, 2021
Torres collected his third hit on the afternoon in the seventh inning and was plated on an RBI double by Andujar to left-center off Jose Ruiz.
Toeing the slab in the Boogie down Bronx, Cole bounced back from his Texas outing with seven scoreless frames, scattering four hits and walking three. Cole fanned seven, including striking out the side in the seventh, topping out with a 101 mph fastball to sit down Vaughn and the White Sox.
'Cause you're hot then you're Cole pic.twitter.com/fps7awujy5

— New York Yankees (@Yankees) May 22, 2021
GAME 3
Once again the Yankees received solid starting pitching as Jameson Taillon tossed five scoreless frames. It was nice to see Taillon reach back for the 96 mph heat as well. As mentioned up top, the Yankees also got some splendid defensive gems from Andujar, Gardner, and LeMahieu. A walk-off walk proved as good as a hit, as the Yankees won 5-4.
That's what DJ do. pic.twitter.com/xp3HBRaRvX

— New York Yankees (@Yankees) May 23, 2021
Torres was the tone-setter in the first frame with a two-run single to center off Dallas Keuchel.
Gleyber stays scorchin' 🔥 pic.twitter.com/ZcSVf3ZXPh

— New York Yankees (@Yankees) May 23, 2021
The Bronx Bombers could've broken it open in the fifth frame but only plated one run as Urshela grounded into a double play with the bases loaded to make it 3-0.
Yet, Chicago was relieved to see Taillon out and Wandy Peralta on in the sixth inning, as Abreu launched a two-run tater to left-center, cutting the advantage to 3-2.
New York would scratch one of those runs back however in the home half, as Gardner's speed, coupled with an Anderson throwing error from shortstop, enabled the Yankees to increase the lead to 4-2.
However, the White Sox kept playing power ball as Grandal went yard against Chad Green for a solo swat in the seventh inning, no thanks to one Stadium fan.
Fan MIGHT have stopped Clint Frazier from robbing this home run and the other fan isn't sure how to feel about it pic.twitter.com/xDjWS3gK8z

— Talkin' Yanks (@TalkinYanks) May 23, 2021
Plus, Aroldis Chapman yielded his first earned run and blown save of the young season, allowing a solo homer to right-center off Vaughn in the ninth inning for the equalizer.
Yet, the Yankees had an answer in the home half. Clint Frazier, he of the three-hit afternoon, singled to center off Aaron Bummer. After Frazier stole second and Gardner struck out, Bummer intentionally walked LeMahieu. Wade then utilized his speed with an infield hit to the right side to load the bases. Finally, Judge, facing Liam Hendriks, coaxed a RBI walk for the walk-off winner.
#AllRise for @TheJudge44's 1st career walk-off 👨‍⚖️ pic.twitter.com/Iqlbs8Px7m

— New York Yankees (@Yankees) May 23, 2021
ON DECK
At 28-19, the Yankees will host the Toronto Blue Jays for a three-game series starting Tuesday evening at Yankee Stadium.
Pitching probables, TBD vs. Corey Kluber, TBD vs. Domingo German, TBD vs. Jordan Montgomery.