BRONX, N.Y. — As I mentioned in my ALDS preview, Game 1 of the ALDS between the Cleveland Guardians and New York Yankees felt like an early swing game. There were plenty of opportunities for this game to swing to a hot Cleveland club. Yet, in a New York minute, everything can change and the Yankees had an answer at every turn in their 4-1 victory.
Making his first postseason start in pinstripes at Yankee Stadium, Gerrit Cole picked up his defense and shoved for 6.1 frames. Cole scattered four hits, walked one, struck out eight, and yielded a solo home run to Steven Kwan in the third inning as his lone blip on the radar.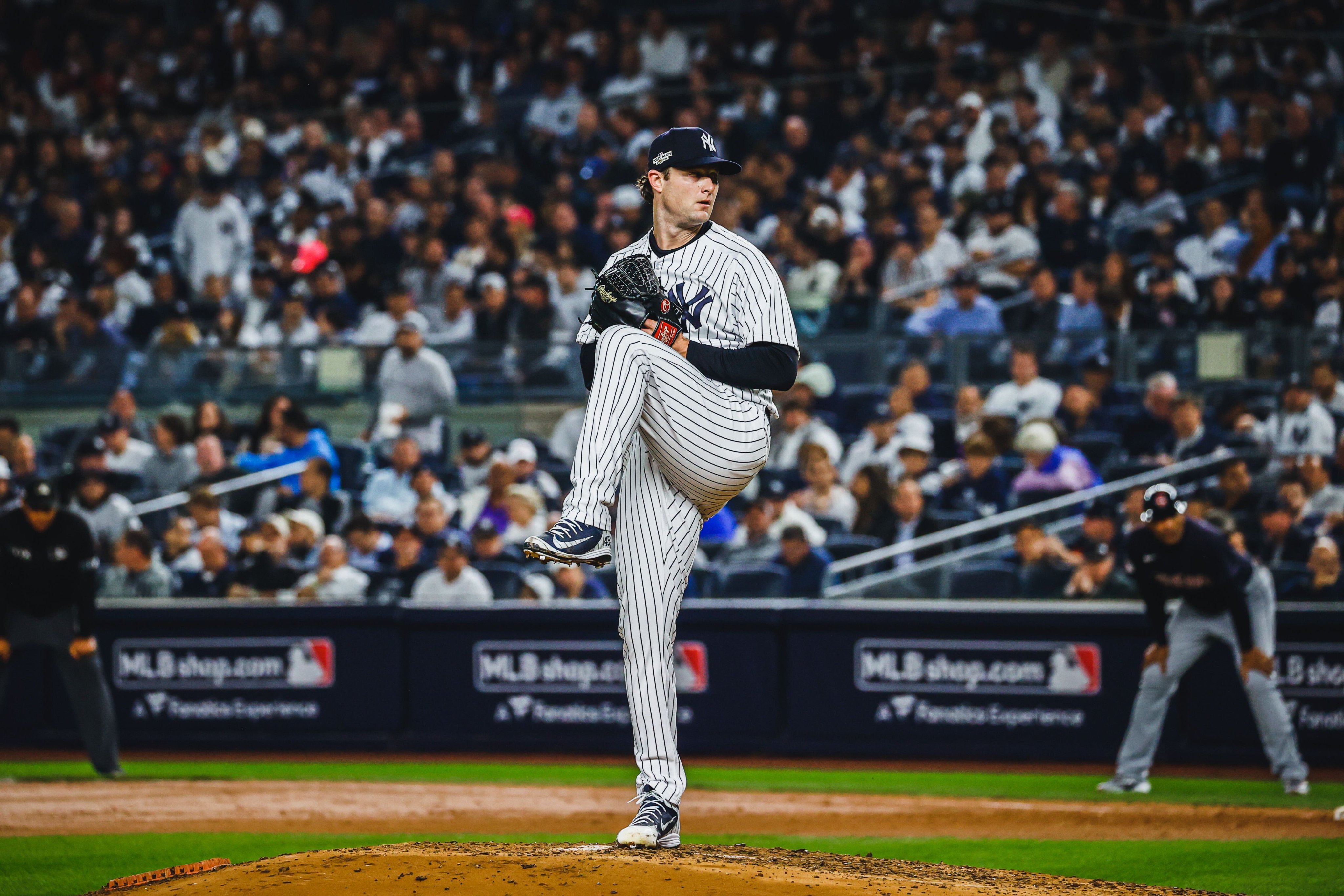 As mentioned, Cole picked up Isiah Kiner-Falefa's first-frame error and a dropped ball by Josh Donaldson on a tag of Amed Rosario stealing second base, by striking out Jose Ramirez and Josh Naylor to squelch an early threat.
He also wiggled in and out of trouble in the third inning following the aforementioned Kwan home run. After a fielder's choice play where Anthony Rizzo forced Naylor but Jose Trevino was somewhat caught off guard by Rosario returning to third, Donaldson turned a grounder by Oscar Gonzalez into a force out at home and then Cole fanned Andres Gimenez to limit the damage.
During the home half, Harrison Bader put on his Darth mask early for Halloween and struck big for the turning point in the game. Bader's one-out blast to left off a full count sinker from Cal Quantrill knotted the contest at one. It was perfect timing and provided a huge boost for the Bronx Bombers.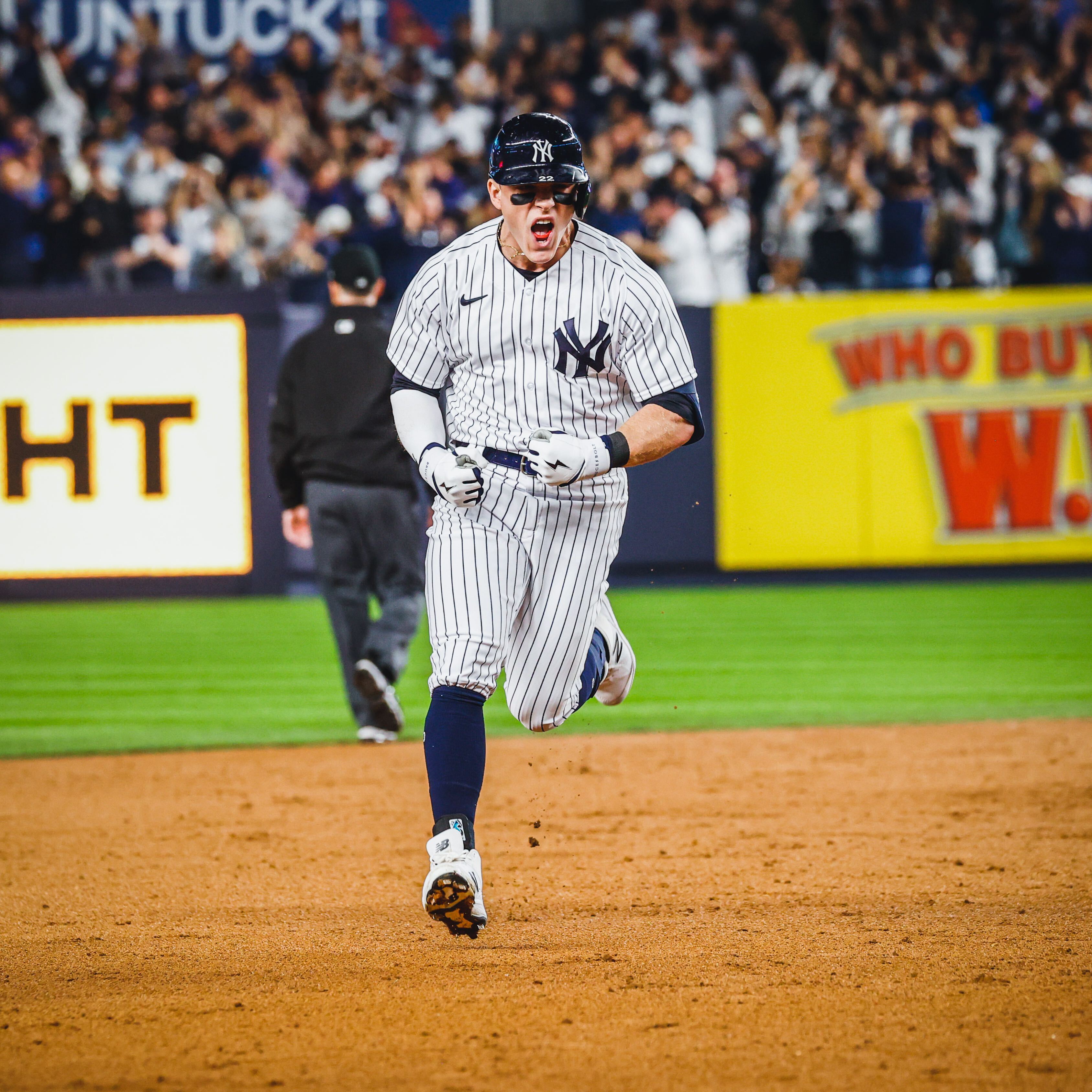 Cole responded with a 1-2-3 fourth frame, aided by a nice grab in foul territory in left by Oswaldo Cabrera, and a nice ranging play by Donaldson at third and set down the Guardians in the fifth as well.
A tip of the cap to Oswaldo 👏 pic.twitter.com/mDYT5XbRRB

— New York Yankees (@Yankees) October 12, 2022
Tough, JD 👊 pic.twitter.com/skZUfOSmwl

— New York Yankees (@Yankees) October 12, 2022
In the home half, nearly 26 years to the day of the Jeffery Maier game and Bob Costas on the call, there was an eerie play in right field. Donaldson sent a fly to right that bounced off the top of the wall but stayed in play. After breaking it down into a trot and inconspicuously receiving a high five from first base coach Travis Chapman, Donaldson was caught up between first and second and ultimately cut down scampering back to first.
Luckily, the ensuing batter, Kiner-Falefa, would hustle his way to third on a hit and a fielding error in right by Gonzalez. Trevino then extended the lead with a great piece of situational hitting and lifted a sacrifice fly to center to extend the lead to 3-1.
Trevi brings in IKF 💪 pic.twitter.com/FBQblC7Wp0

— New York Yankees (@Yankees) October 12, 2022
Cole answered that with another donut in the sixth stanza.
Aaron Judge played the role of Rickey Henderson in the home half of the sixth, coaxing a walk, stealing second, and advancing to third on an Austin Hedges throwing error. While Judge didn't homer, the two players sandwiching him did. Rizzo followed by launching a towering two-run tater off a full-count Quantrill cutter, into the BP Crew section!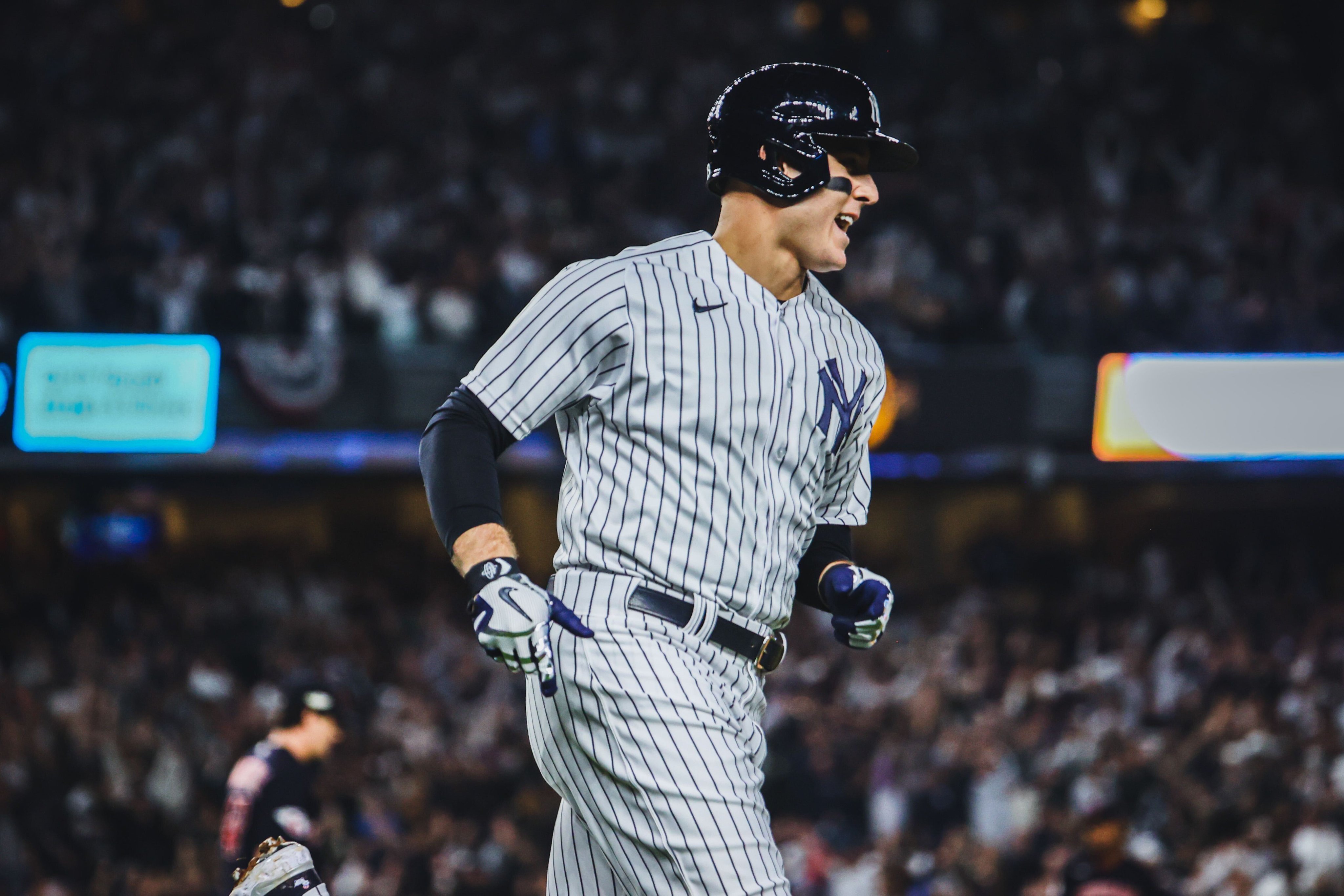 That would end Quantrill's night. Like father, like son, in the postseason I guess.
Cole would record one out in the seventh and nearly garnered a second after a Myles Straw single eluded a leaping Kiner-Falefa by deflecting off his glove. Remarkably, the defense would pick it up even more with Cole out of the game. After Manager Aaron Boone brought in Jonathan Loaisiga, Kwan reached with a single to get Cleveland cooking. Yet, that threat was doused after Kiner-Falefa turned a grounder by Rosario into a twin killing.
Turnin' Two 🙌 pic.twitter.com/2GimO5YDHz

— New York Yankees (@Yankees) October 12, 2022
After retiring Ramirez in the eighth inning, Loaisiga was lifted for Wandy Peralta. Peralta quickly paid dividends by coaxing a double play ball hit to Rizzo, who stepped on the bag at first and threw to the shifting Donaldson, who applied the tag on Ramirez at second. Peralta then set down the rookie Gonzalez swinging for the third out.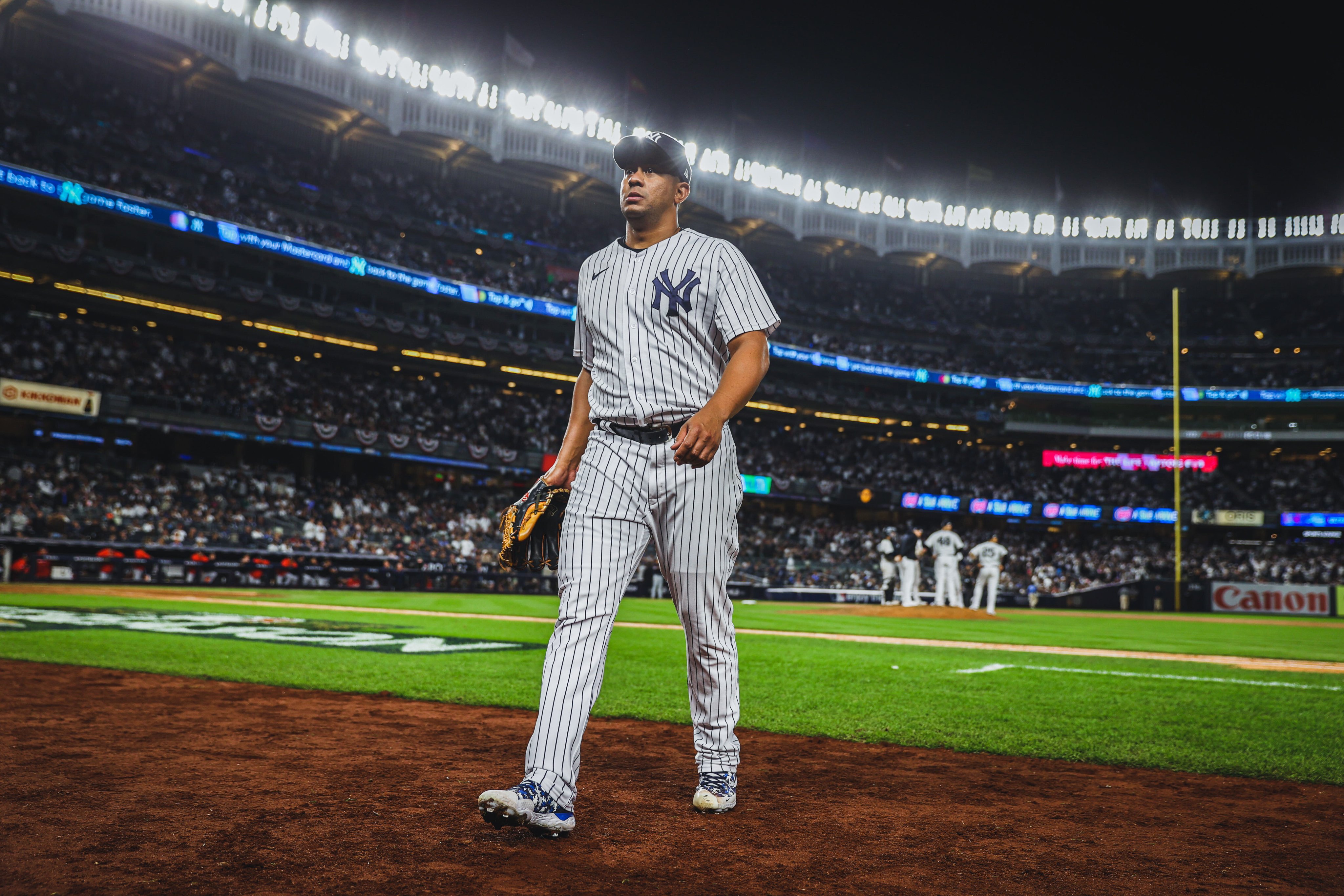 Finally, in the ninth inning, Peralta garnered a ground out from Andres Gimenez for the first out. Boone then played baptism by fire with Clay Holmes. Holmes inauspiciously plunked Owen Miller with his first delivery. Yet, he would settle down and shake off the rust, retiring Will Benson with a ground out and Straw on a flyout to Bader in center to end the game.