BRONX, N.Y. — The year 2023 means a year ending in three for the New York Yankees. It also marks 120 years since the team's inaugural campaign and the one-hundredth anniversary of the club's first World Series title and pocket watches. Some other three's meant the culmination of a dynasty, the rise of another, a new Boss in town, the last year of the original Yankee Stadium and the final salvo of a unaniMOus Hall of Fame career.
Only time will tell if the 2023 squad will have a special season. Below, we take a look back at the years ending in two.
1903
We have a team! The New York Highlanders made their American League debut. Piloted by Clark Griffith, New York went 72-62-2 and finished in fourth place. Jack Chesbro posted 21 victories, a 2.77 ERA, and 33 complete games. Second baseman Jimmy Williams hit 12 triples and drove in a team-high 82 runs. Outfielder Wee Willie Keeler sported a 117 OPS+.
1913
The 1913 season marked the first in which the club adopted the name "Yankees." While the team name changed for the better, the results on the field did not. Under skipper Frank Chance, the club finished 57-94-2 and wound up in seventh place. Pitcher Ray Caldwell sported a team-best 124 ERA+. Among regulars, outfielder Harry Wolter's 110 OPS+ led the squad.
1923
A World Series trophy and a pocket watch! The 1923 campaign saw the birth of Yankee Stadium and the team drew 1,007,066 fans, pacing the junior circuit. Playing in the Bronx, the Bombers went 98-54 under the tutelage of Miller Huggins. Babe Ruth swatted 41 bombs and batted .393. Lou Gehrig made his MLB debut, batting .423 in 13 contests. New York's starting rotation had four double-digit winners, including Sad Sam Jones and his 21 wins. Herb Pennock sported a 126 ERA+. For the third consecutive season, the Yankees faced their former landlords, the New York Giants, in the Fall Classic. Ruth batted .368 with three home runs. Aaron Ward collected 10 hits and batted .417. The Yankees clinched the series in six at their old stomping grounds, the Polo Grounds.
1933
The defending World Series champs came up short in '33. Joe McCarthy's club finished 91-59-2, in second place behind the Washington Senators. The team could hit but didn't receive quite enough pitching. First baseman Lou Gehrig walloped 32 homers and drove in 140 runs, while Ruth smacked 34 round-trippers.  Lefty Gomez anchored the pitching staff, pacing the junior circuit with 163 K's.
1943
In 1943, Marse Joe's club won their second World Series title in three years. New York finished 98-56-1. Starting pitcher Spud Chandler earned American League MVP honors. Chandler paced the junior circuit with 20 wins, a 1.64 ERA, 20 complete games, five shutouts, a 198 ERA+, a 2.54 FIP, and a 0.992 WHIP. Leftfielder Charlie "King Kong" Keller bashed 31 home runs and led the league with 106 walks, a .922 OPS, and a 168 OPS+. The Yankees defeated the St. Louis Cardinals in the World Series, 4-1. In the Fall Classic, Chandler posted a 0.50 ERA in two starts for the Pinstripes.
1953
Casey Stengel's club set an MLB record with their fifth consecutive World Series victory. The Bronx Bombers finished 99-52. Catcher Yogi Berra belted 27 home runs and finished second in AL MVP voting. Centerfielder Mickey Mantle posted a 145 OPS+ and a rightfielder Hank Bauer sported a 131 OPS+. Pitcher Eddie Lopat led the AL with a 2.42 ERA, Whitey Ford and Johnny Sain sported 3.00 ERA's. New York topped Brooklyn in the World Series, 4-2. Billy Martin batted .500, Berra hit .429. and Lopat pitched a complete game in the Fall Classic.
1963
The two-time defending World Series champions won their fourth consecutive AL Pennant. Ralph Houk's squad finished 104-57, before falling to the Los Angeles Dodgers dynamic duo of Sandy Koufax and Don Drysdale in the Fall Classic, 4-0. Catcher Elston Howard earned AL MVP honors and a gold glove while smacking 28 home runs. He hit .333 in the World Series as well. Joe Pepitone, Tom Tresh and Roger Maris all also clocked more than 20 home runs. Ford finished third in the MVP vote, leading the AL with 24 wins, 37 starts, and 269.1 innings pitched. Ralph Terry led the league with 18 complete games. Jim Bouton won 21 games. Al Downing posted a 2.56 ERA.
1973
This marked the first year of George M. Steinbrenner III's ownership of the franchise. Steinbrenner bought the team from the hapless CBS outfit and restored the organization to prominence. In the final season of his second stint with the club, Houk's squad finished fourth with an 80-82 ledger. That season also marked the curtain call for Yankee Stadium I. All-Star catcher Thurman Munson clocked 20 home runs and earned a gold glove. Graig Nettles and Bobby Murcer both hit 22 home runs. Mel Stottlemyre won 16 games. Ron Blomberg also made baseball history as the first-ever designated hitter.
 1983
Martin returned for his second stint as Yankee skipper but this team was another in the lot of a lost Yankee decade, going 91-71 and finishing in third place. All-Star pitcher Ron Guidry finished fifth in AL Cy Young voting, earned a gold glove, won 21 games, and led the AL with 21 complete games. Dave Winfield clubbed 32 homers, Don Baylor posted a .856 OPS. It was the first full season for Don Mattingly and the final one in pinstripes for Nettles and the first stint of Goose Gossage. Dave Righetti tossed a no-hitter against the Boston Red Sox on July 4. This season also featured the infamous Pine Tar Game against George Brett and the Kansas City Royals on July 24.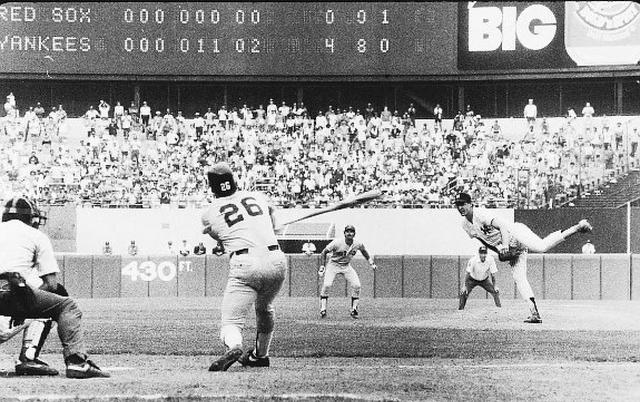 1993
Under General Manager Gene "Stick" Michael and manager Buck Showalter, the Yankees organization changed the culture in the Bronx. The Yankees brought in players with World Series rings and or winning pedigrees, like Paul O'Neill, Jimmy Key, and Wade Boggs. This season also saw the emergence of Bernie Williams as the full-time centerfielder for the next decade plus. Danny Tartabull clubbed 31 homers, Mike Stanley swatted 26. Jim Abbott tossed a no-hitter against the Cleveland Indians on Sept. 4, 1993. The Yankees challenged the defending and eventual repeat World Series champion Toronto Blue Jays all season long but ultimately came up short in second place with a ledger of 88-74 in the final season without a Wild Card in baseball.
2003
This season had all of the signs of a special year. The Yankees celebrated their one-hundredth season in franchise history. Catcher Jorge Posada bashed 30 home runs and finished third in AL MVP voting. Jason Giambi slugged 41 homers and Alfonso Soriano belted 38. Derek Jeter was named Yankee captain, batted .324, and hit his lone grand slam against the Chicago Cubs. Hideki Matsui made his Yankee debut in grand fashion as well. Andy Pettitte notched his second career 21-win season. Mike Mussina, David Wells, and Roger Clemens all registered double digits in the win column. Mariano Rivera posted a microscopic 1.66 ERA. Joe Torre's club posted its second consecutive 100+ win season, going 101-61-1 and winning their sixth straight AL East title. The Bronx Bombers dispatched the Minnesota Twins in the ALDS and prolonged the "Curse of the Bambino," another year with a comeback victory in Game 7 of the ALCS, capped off by an Aaron Boone walk-off home run (which would shape the Yankees' future in a dubious fashion) and three brilliant innings of relief by Rivera, who won the ALCS MVP. Unfortunately, the spent Yankees fell to the Florida Marlins and Josh Beckett in the World Series in six games.
2013
This marked the beginning of the end of the Yankees' dynastic run and started a stretch where they marched out a lineup where they really didn't care for about a four-year stretch. It was mostly known for the farewell tour of Rivera, who earned All-Star Game MVP and had his No. 42 retired, finished the season with 44 saves and a 2.11 ERA. Pettitte also pitched his final season in pinstripes, going 11-11 with a 3.74 ERA and capping off his career with a complete-game victory at Houston. Hiroki Kuroda finished his tenure in the Bronx with a 3.31 ERA. It was additionally the swan song in pinstripes for Curtis Granderson and Robinson Cano, who was the Yankees' most productive hitter with 27 home runs and a .314 batting average. Soriano was brought back for a fun run late in the season where he smacked 17 home runs in 58 games. Alas, Jeter, Alex Rodriguez, and Mark Teixeira were injured for the majority of the season. This sketchy roster piloted by manager Joe Girardi was essentially unmemorable otherwise and posted a ledger of 85-77, finishing third in the AL East.