MIAMI, Fla. — Clearly the New York Yankees did not want to disappoint Derek Jeter looking down from high above. The new-look Yankees surely added some new life and energy to this season and actually finished off a series sweep! It was certainly a refreshing series with all of the new elements taking shape on this club.
GAME 1
The Yankee trade deadline deals paid immediate dividends in their 3-1 victory. Although this game had all kinds of oddities even with the acquisitions of Joey Gallo and Anthony Rizzo. Giancarlo Stanton played a whopping 5 2.3 innings in left-field. Somehow even this all the moves, Tyler Wade still started at third base. DJ LeMahieu and Gio Urshela were nursing injuries but did collect late hits off the bench. Gleyber Torres getting tossed on a terrible third strike call meant LeMahieu having to enter and Rougned Odor being shifted to third base. Oh, and Nestor Cortes Jr. also saw time as a pinch-runner. Luckily it all worked out.
A big part of that was Mr. July, Jameson Taillon. In his past five outings, Taillon has posted a 1.16 ERA. Taillon tossed 5.2 scoreless frames, scattered five hits, fanned five, and walked a pair.
The Yankee starter was buoyed by a sixth-inning home run by Rizzo. The bomb to right off a 1-0 fastball from Zach Thompson, staked New York to a 1-0 lead. It was one of Rizzo's two hits on the evening. In addition, while they won't appear in the box score, Rizzo prevented a pair of potential throwing errors from Odor at first base. A solid debut for Rizzo.
With Jonathan Loaisiga on in relief with two outs in the sixth inning a sweet dive and flip by Torres to Odor at second base on a ball hit by Bryan De La Cruz, made for the final out and saved the game from being tied.
New York extended its lead in the eighth inning against ex-Yankee Richard Bleier. With one out, Bleier plunked Aaron Judge. Rizzo sliced a single to left to chase Blier. Facing Zach Pop, Urshela, pinch-hitting for Loaisiga, notched a single to right. The Yankees then pinch-ran Cortes Jr. for Urshela.
Extending the lead to 3-0 was Odor with a two-run single to center.
The Marlins scratched out a run against Zack Britton in the eighth inning but Aroldis Chapman nailed down the victory in the ninth inning.
GAME 2
The Yankee lineup wasn't explosive but they were able to grind down Marlins All-Star Trevor Rogers for a short outing. We saw somuee on-brand 2021 Yankee scoring but also Rizzo continuing to be an impact bat and glove. Oddly enough, the National League rules may have bailed the Yankees out, as the bullpen entered at the perfect time to take over for Domingo German. It all added up to a 4-2 New York victory.
The New York offense collected a pair in the second stanza. Odor kept his hot hitting going with an RBI single to right. Gary Sanchez extended the lead with an RBI ground-rule double to right.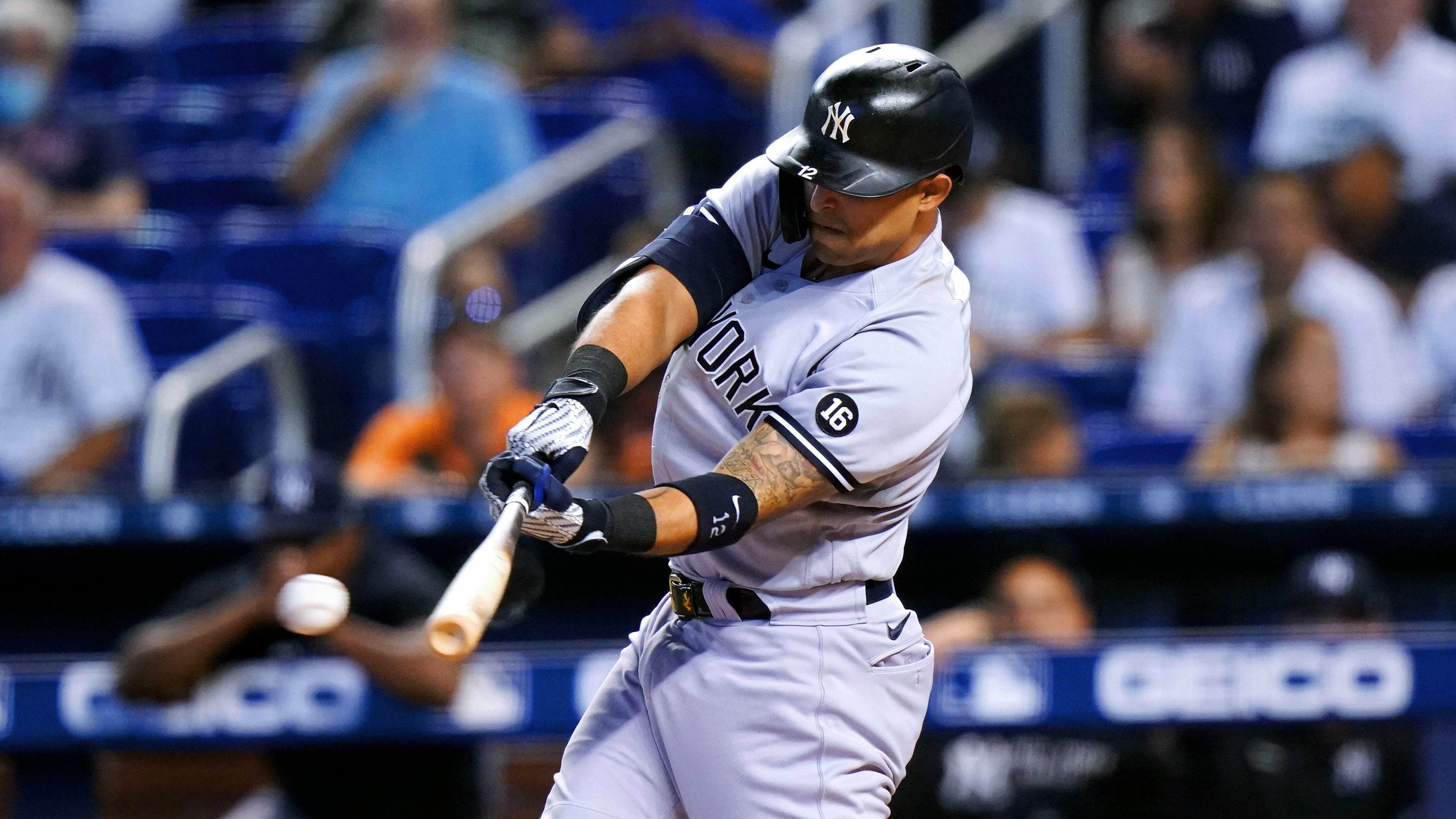 As I noted, the Yankees did strand quite a few runners in this contest, posting a 3-for-12 ledger with RISP. It looked like that would come back to bite them in the fourth frame.
While German was channeling his late friend Jose Fernandez in the early going, the ex-Marlin ran into trouble in that fourth inning. A Jorge Alfaro RBI triple and a wild pitch that plated Alfaro squared the contest at two.
Yet, the Yankees responded in the fifth frame in their classic 2021 fashion, as Rizzo scored on a wild pitch by Miami reliever Anthony Bender.
Extending the lead in the seventh inning was Rizzo, who had a nice tag play on a pickoff throw from Sanchez in the second inning, walked twice, and recorded two hits, including a mammoth mash to right off a 2-2 sinker from Steven Okert, making it 4-2.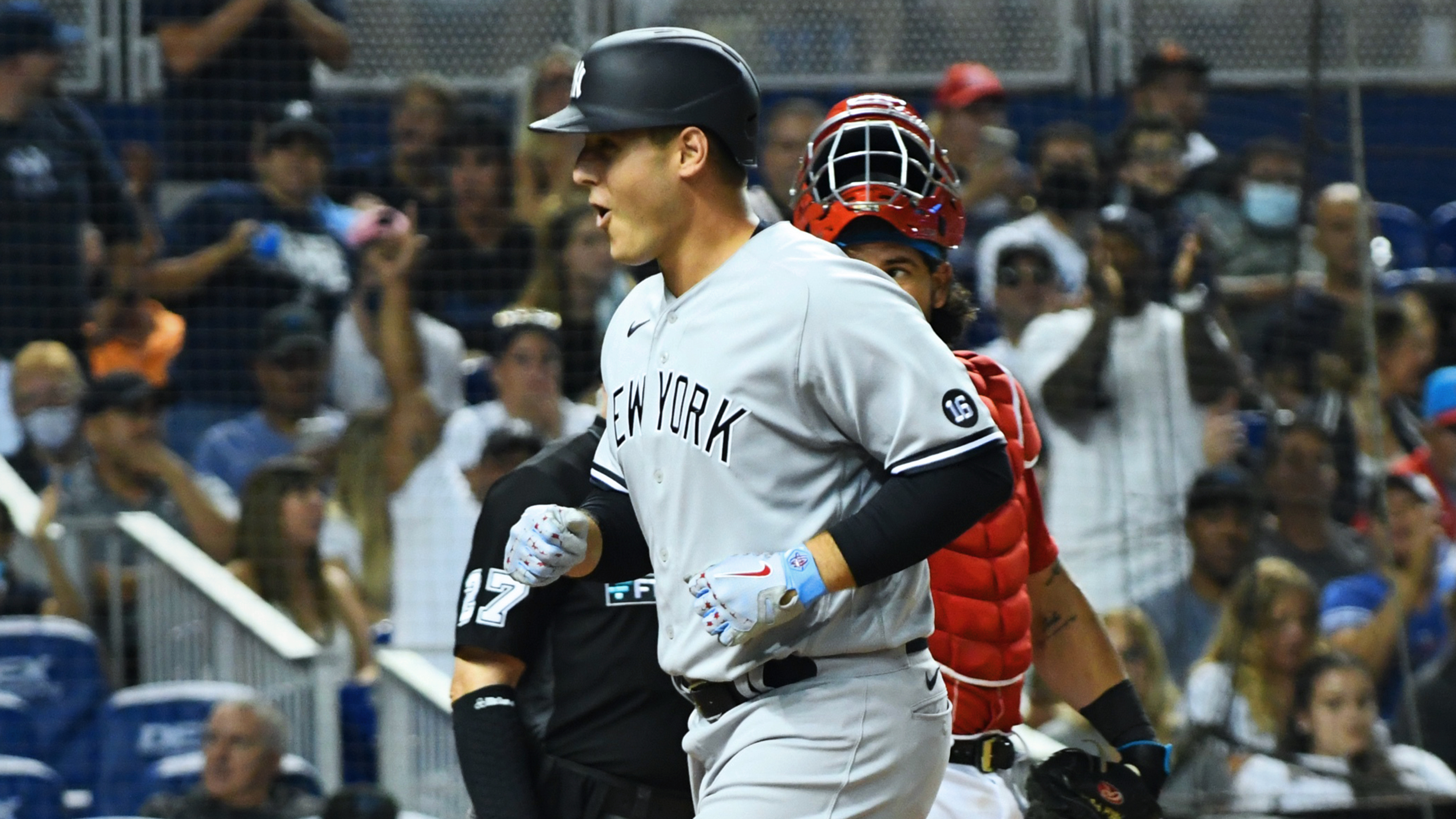 As mentioned, the Yankee bullpen went to work after Urshela pinch hit for German in the fifth inning. Lucas Luetge was nails with four Ks in two scoreless frames.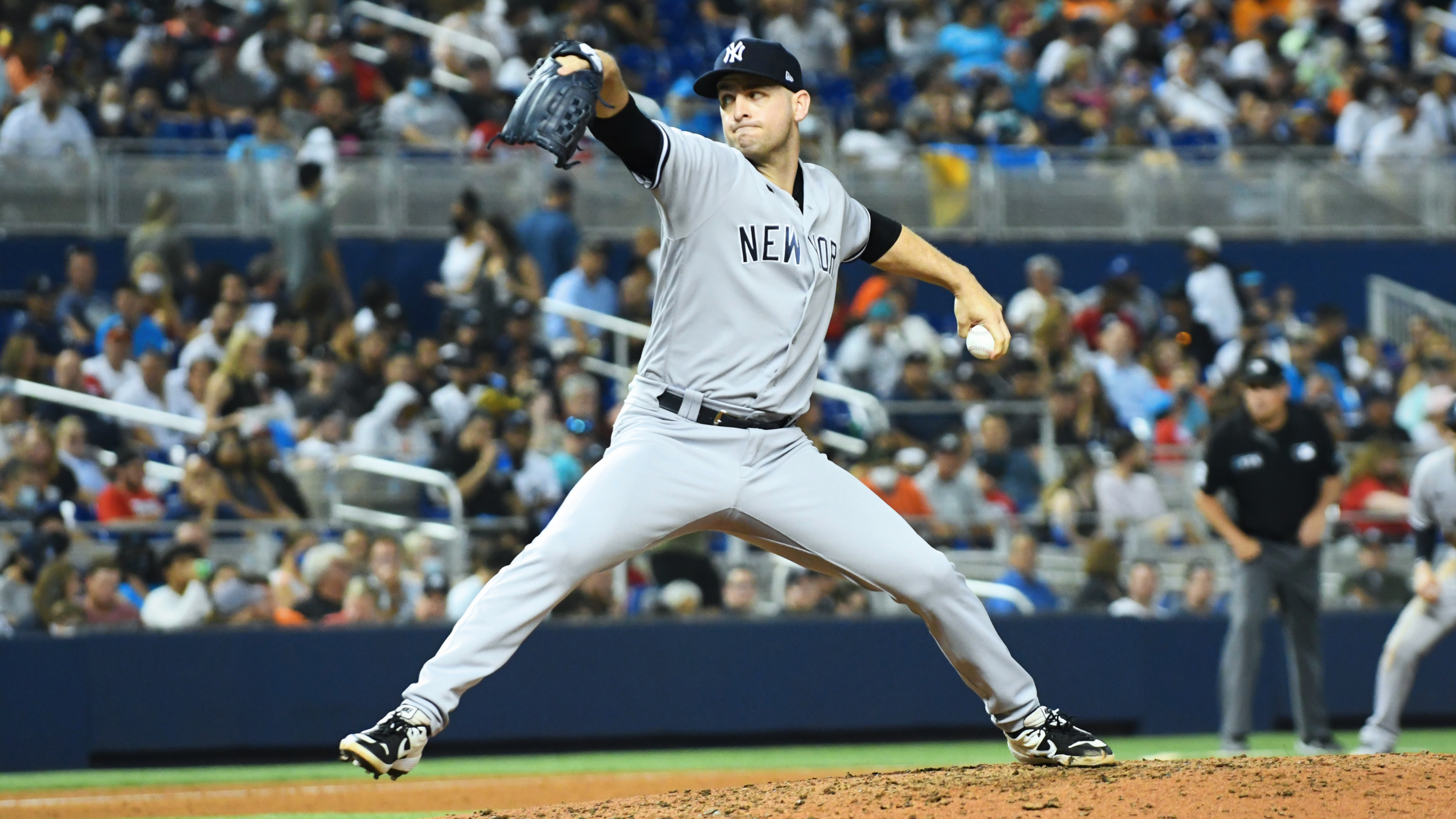 Clay Holmes did his best David Weathers impression with a flawless seventh inning and three ground ball outs. Chad Green tossed smoke in a scoreless eighth inning.
Matters were a bit dicey in the ninth inning as Jonathan Loaisiga toed the slab. With one out, Brian Anderson singled to left. The ensuing batter Lewin Diaz grounded to Torres, who missed the tag on Anderson and also threw a lawn dart to Rizzo at first base. Yet, Loaisiga would rebound with a strikeout of Alfaro and ground out of De La Cruz.
GAME 3
It's incredible that the Yankees didn't beat the Marlins by more but they finally busted through. New York flashed the leather with Wade and Rizzo, while Miami completely botched. Gallo finally got on the board with a double. Joely Rodriguez was economical with one pitch, one broken bat, and one out for the win. Crazy rules. The Yankees fought back for the 3-1 victory.
T-Wade is smooth with it. pic.twitter.com/BhTvTw1lRc

— New York Yankees (@Yankees) August 1, 2021
1st hit as a New York Yankee. Congrats @JoeyGallo24 👏 pic.twitter.com/RgYDiaV1UD

— New York Yankees (@Yankees) August 1, 2021
Yet again, Jordan Montgomery could've sued for lack of support. Aside from the Marlins scratching out a run in the first frame, Montgomery was solid, tossing five frames, yielding three hits, and one walk while fanning five.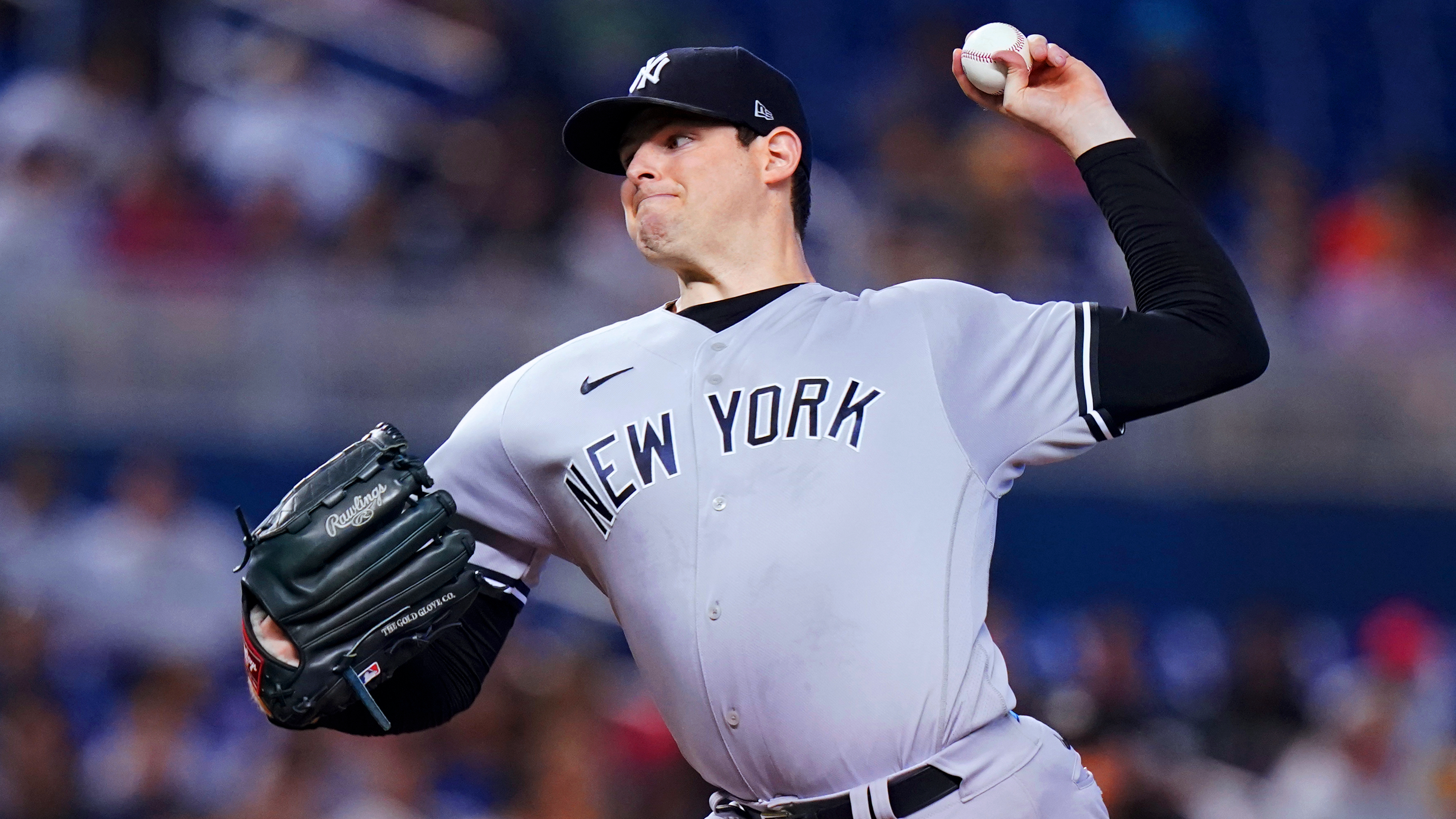 While the Yankee offense was paltry, you had to tip your cap to Sandy Alcantara, who notched 10 Ks in seven scoreless frames, allowing two hits and one walk as well.
New York finally broke through against the Miami bullpen in the eighth inning. Brett Gardner got the ball rolling with a single to center off Anthony Bass. With one down and Stanton pinch-hitting. the Marlins unraveled. Stanton reached on a throwing error by Brian Anderson and Gardner scampered to third. After the Marlins gave Bass the hook (see what I did there?) Rizzo rose to the moment again, shooting a RBI single to left off Bleier for the equalizer.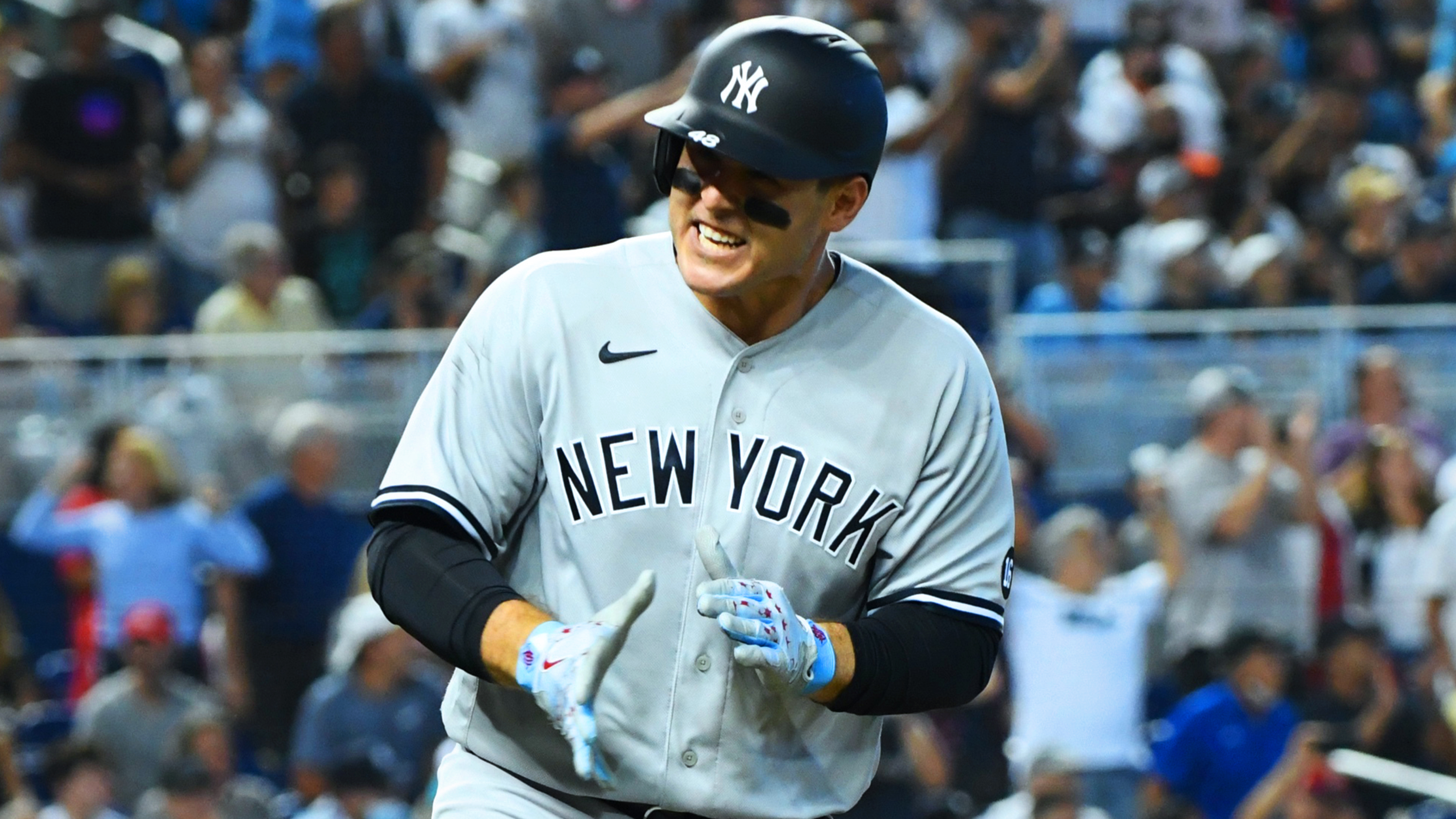 The ensuing batter Judge plated Stanton with the go-ahead run on a single to left.
Miami Mashin' pic.twitter.com/Ct8kXbEtiy

— New York Yankees (@Yankees) August 1, 2021
During the home half with Britton pitching, Rizzo flashed the leather once more, turning a slick, inning-ending 3-6-3 double play.
The Yankees would tack on another run courtesy of a Jazz Chisholm Jr. throwing error in the ninth inning.
Chapman set down the Marlins in order in the ninth to preserve the win.
ON DECK
At 56-48, the Yankees return to the Bronx for a three-game set against the Baltimore Orioles beginning Monday evening.
Pitching probables, Jorge Lopez vs. Andrew Heaney, Alexander Wells vs. Gerrit Cole, Matt Harvey vs. Jameson Taillon.