Luis Gil broke through our defenses. Everything we've learned from years of sports fandom teaches us to keep our guard up and never fall in love. After all, prospects will break your heart. Jesús Montero. Manny Bañuelos. Drew Henson. Andrew Brackman. Brien Taylor! Gil isn't nearly as acclaimed as anyone listed above had been. Two weeks ago, he was just an injury replacement who was supposed to pop back down to Scranton-Wilkes Barre and maybe resurface in the bullpen at some point. He was another Albert Abreu or Nick Nelson.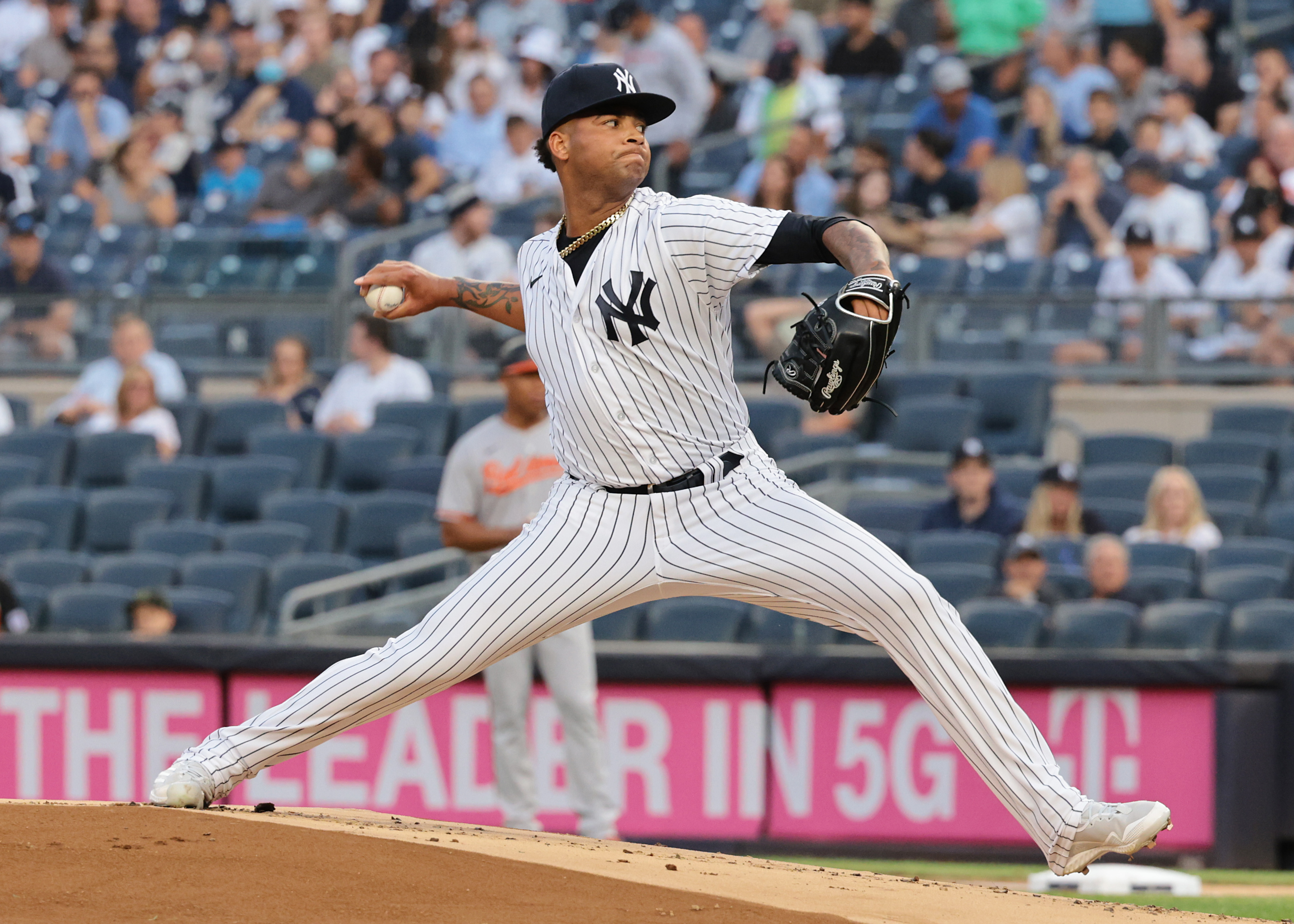 Two scoreless starts later, we're throwing caution to the wind and opening our hearts again. Maybe he really is this good? Dropping our guards leaves us vulnerable to more pain, and that's always the most likely outcome, but when a fastball pops like that we have to take a chance on prospect love.
Let's dream big. The record for most consecutive innings by a pitcher at the beginning of his MLB career is 39 (Brad Ziegler). He's up to 11 right now. Let's assume he doesn't give up any runs for the rest of the season, or at least not very many. He still didn't reach the majors until August 3. Are two flawless months enough to win the AL Rookie of the Year Award?
The Value of Zero
Like all awards, Rookie of the Year is decided by voting members of the Baseball Writers Association of America (BBWAA), which means it is subjective. It's not the same as the Silver Bat Award, which goes to the player in each league with the highest batting average. There's no cut-and-dry formula for a ROY winner. The best estimator we have is WAR, which doesn't do a very good job of predicting winners, but will at least help determine who's in the conversation for the award.
As you might expect, a pitcher can rack up a good amount of WAR by pitching the way Gil has. In two starts, he has thrown 11 innings, striking out 14, with six hits, three walks, and of course zero runs allowed. More pertinently, he has 0.8 WAR (Baseball-Reference version). Let's assume he can continue at this pace and add on 0.4 WAR per start for the rest of the season. This is a completely unrealistic expectation— Padro Martínez averaged 0.4 WAR per start in 2000, which is the single-season record in the Wild Card Era— but we're dreaming big, aren't we?
Gil's last start was the Yankees' 111th game of the season. With 51 games remaining from that point on, he can start 10 more times. At his current pace, he would finish the year with 12 total starts, 66 innings, 84 strikeouts, 36 hits, 18 walks, and a phenomenal 4.8 WAR. In the last 15 years, only nine of the 30 ROY winners topped 4.8 WAR. He would absolutely have a strong case despite only two months of work.
The Competition
Not every rookie class is equal. In 2013, Wil Myers won despite only 88 games played because no rookie posted more than 2.4 WAR in the AL. A year earlier, five AL rookies had more than 2.4 WAR, but Mike Trout obliterated the competition with a 10.5 WAR season.
This year's class of AL rookies isn't quite as weak as the Myers year, but it's still a very soft field. Clearly, there's no Trout running away with it. Here are the most likely contenders so far, excluding Gil of course:
Through two starts, Gil is already 28 percent of the way to rookie WAR leaders Arozarena and García. He doesn't have to surpass them to win the award, either. Voting is subjective, and if he keeps up his lights-out pitching, he'll be one of the biggest storylines in baseball by the time the season finishes. So far, none of the other candidates have stolen the headlines.
Getting Realistic
At some point in the future, Gil will surrender a run. It will probably happen on Saturday in his next start. His stuff looks nearly unhittable so far, but there's no such thing as a perfect pitcher. In Triple-A this year, he averaged 6.8 walks per nine innings. In his final minor league start (hopefully ever), he gave up six runs and recorded only four outs. The Yankees didn't call him up because he was ready for the big leagues; they called him because they needed an emergency starter and he was on regular rest.
That doesn't mean he just got lucky in his first two appearances. His stuff is for real. Nobody pumps upper 90s heat with a ridiculous 93 mph changeup on accident. His 32.6 percent strikeout rate would be second-best in the AL behind Gerrit Cole if he had enough innings to qualify. No one can do that to MLB hitters without being a legitimately good pitcher, even for just 11 innings.
There isn't much precedent for winning the ROY with only two months of work. The closest comparison is our very own Gary Sánchez. He and Gil obviously play different positions, but he lit the baseball world on fire as a rookie in 2016, slashing .299/.376/.657 with 3.0 WAR in just 53 games. He finished second in the ROY voting, taking four first-place votes away from Michael Fulmer, who posted a stellar 5.4 WAR over 159 IP. There doesn't appear to be a Fulmer-caliber rookie in the AL this year. If Gil can be the pitching equivalent of 2016 Gary Sánchez, he has a decent shot at the award.