The time of year has come. Much earlier than any of us would've liked, but regardless, it's here. The Yankees' season is over, and after falling short of a championship for the 12th straight year, I'm making my offseason wishlist. Before I start, let me make a few things clear:
I don't think this team is in an impossible position and should just punt until some of the big prospects are ready
Also don't think they're only one piece away (just signing a big-name SS won't fix everything)
I don't anticipate a ton of this happening. It's just what I WANT to happen
I'm no genius, but I'll try and keep the estimated contracts as realistic as possible
The main concern with the Yankees as presently constructed is their lineup. A lineup that finished 19th in runs scored & 13th in OPS is simply not going to get it done. So that's where we'll start.
Sign SS Trevor Story to 6-year, $120 million contract
Let me be clear here. Carlos Correa is the best free agent in this class. He's everything the Yankees need. Only 27, elite on both sides of the ball, a true villain that plays the game with passion.
The amount of Correa backlash from Yankee fans is insane to me. Do I hate the guy for what he did to my team? Yup. Would I sign for him coming to help us win? In a heartbeat.

The best way to ease the pain of the past 5 years is win a championship. Correa helps. That simple

— Stanzo (@ncostanzo24) October 8, 2021
I hate Carlos Correa, but him giving that pep talk to Valdez is awesome. Yankees need more of that swagger https://t.co/MBdI2VhPHr

— Stanzo (@ncostanzo24) October 17, 2020
Carlos Correa giving Valdez a pep talk 🗣 pic.twitter.com/A3dCV1W610

— Bleacher Report (@BleacherReport) October 17, 2020
I get it, everyone has their opinions on Correa. But he'd be great. I also don't see it happening because of the public perception, and the fact that he'll likely get $300M+ contract. So, we pivot to Story.
Story had a down 2021, but he's overall proven himself to be an elite two-way shortstop over his career. Considering his down year & the fact that he's a bit older than Correa and Corey Seager, I expect his contract to be a bit cheaper/shorter than theirs. But don't get it twisted, Story would be a massive upgrade over anything the Yankees have had at shortstop in a long time. Not only does he solidify our defense up the middle, but look how his bat would project at Yankee Stadium:
Take your pick pic.twitter.com/NRTurk5x0Z

— Earl (@YankeeFanEarl) October 10, 2021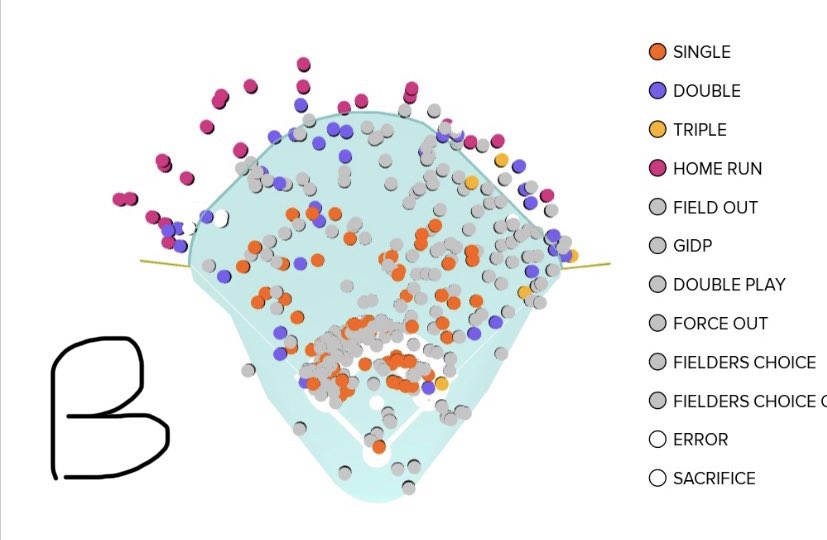 That's a lot of gray dots that the short porch would turn into homers. On top of Story's potential to abuse the short porch, he's extremely fast (89th percentile in sprint speed) & elite defensively.
The bottom line is this. Gleyber Torres isn't a shortstop. Oswald Peraza & Anthony Volpe aren't guarantees. Grab one of Story, Correa or Seager now. If and when Peraza/Volpe become a stud, move someone over to third base. Get stronger up the middle.
Trade for 1B Matt Olson
I enjoyed having Anthony Rizzo on the Yankees. A lefty-hitting first baseman that's slick with the glove just feels right in the Bronx. That being said, Rizzo is also 32. He turned down a 5 year, $70 million contract from the Cubs. I'm just not sure that's worth it for a guy who's OPS+ was just 111 this season. Enter Matt Olson.
2022 will be Olson's age 28 season. He just had a monster season with 39 HR & 111 RBI. Olson is a lefty, and has two Gold Gloves to his name. You may be asking yourself, why would the A's trade him? Well, because of money.
I just found out Matt Olson is projected to make *$12 million* in arbitration for 2022!!!

That kind of money for a first baseman, plus with Oakland maybe being due for a retool, paired with their frugalness almost guarantees he's gone.

Bring him to the Bronx #OlsonToNYY

— Hoodie Maybin #CorreaToNYY (@HoodieMaybin) October 12, 2021
The Oakland A's don't pay anybody. We're talking about the team that wouldn't even tender Marcus Semien the qualifying offer a year ago. At $12M in his second-to-last arbitration year, it's not far-fetched to believe they'd shop Olson. The Yankees could offer a package with a combination of controllable MLB talent (Luke Voit, Gio Urshela, maybe even Gleyber Torres?) & prospects such as Oswald Peraza, Clarke Schmidt, or Oswaldo Cabrera. I'm not sure the A's move Olson, but if they do, he would be a great fit in New York.
Sign C Tucker Barnhart to 2-year, $12 million contract
I don't have a strong opinion one way or the other on Gary Sanchez. When he's on, he is the best offensive catcher in baseball. When he's cold, he's ice cold. However, I do think this could be the time the Yankees move on from Sanchez. Especially as he's set to make around $8 million in 2021. I could see the Yankees negotiating something lower with Sanchez. If not, Tucker Barnhart could be an option.
Barnhart was 79th percentile in framing in 2021 compared to just 17th percentile for Sanchez. Don't expect much from him with the bat, as he posted just a 75 OPS+ this season. But considering how often the Yankees were willing to roll with Kyle Higashioka's 71 OPS+ because of his 84th percentile framing, I could see them doing the same with a lefty-hitting counterpart, and Barnhart fits that bill.
Sign SP Masahiro Tanaka to 1-year, $10 million contract
I missed Masa in 2021. While he's far from the fireballer the Yankees signed out of Japan in 2014, the guy was a great Yankee. Despite elbow issues, he made 27+ starts a year from 2016-2019. And he always brought it in the postseason.
Sad that the Yankees have reduced me to tweeting 2017 ALCS highlights while the Astros are about to play in their 5th straight. But bring the man home pic.twitter.com/Ifvr8pLnbF

— Stanzo (@ncostanzo24) October 13, 2021
The Yankees' rotation actually looks pretty strong already next season. Adding Tanaka to a group that includes Gerrit Cole, Luis Severino, Jordan Montgomery, and Jameson Taillon only fortifies it. Plus Nestor Cortes, Domingo German, Luis Gil, and Michael King for depth and that staff looks very nice.
Center Field
I fully expect Aaron Hicks to be this team's starting center fielder. I'm not crazy about it because he hasn't put up a healthy season since 2018. You just can't count on him. I'd also prefer he move to playing mostly corner outfield because it does seem like he's declining defensively. Realistically, we're probably looking at Hicks backed up by Brett Gardner. I'm hoping that Gardner retires (although he was good down the stretch) and makes way for Estevan Florial. Florial is going into his age 24 season, and he showed promise in a very small sample size last season.
Estevan Florial drills one in the right field seats and the Yankees now take a 6-3 lead! pic.twitter.com/UHXy8qV6bj

— John Sterling Calls (@JSterlingCalls) July 21, 2021
He's played 12 games in the big leagues, so who knows what Florial can provide in 2022. But his speed, defense, and lefty swing are worth looking into. If the Yankees go out and get a bona fide center fielder, great. If not, I want Florial getting a fair shake when Hicks inevitably goes down again.
Sign Starling Marte to 4 year/$60 million contract
Screw it. I typed that whole thing out about rolling with what we have in CF, but I can't help myself. I know it's gonna be Hicks starting in center, but a guy can dream, right? Marte is a bona fide leadoff hitter that brings speed and a great bat to the top of the order. He had a 131 OPS+ with the Marlins and A's this year, as well as 47 stolen bases. I have no idea whether 4/60 is what he'll get, but going into his age 33 season I imagine a 4-year deal should be about right. Marte would give the Yankees a third new impact bat in addition to Story and Olson.
Lineup
Marte CF
Judge RF
Olson 1B
Stanton DH
Story SS
Gallo LF
LeMahieu 3B
Torres 2B
Barnhart/Higgy C
Bench:
Barnhart/Higgy C
Wade UTIL
Hicks OF
Odor IF
Pitching
Cole
Severino
Montgomery
Tanaka
Taillon
RP Cortes
RP King
RP Luetge
RP Peralta
RP Holmes
RP Green
RP Loaisiga
CL Chapman
What moves would you make to fix the Yankees? Comment or tweet me @ncostanzo24