BRONX, N.Y. — Good teams win close games. During their series sweep of the Boston Red Sox, the New York Yankees proved as much. The Bronx Bombers flipped the script and places in the standings with the sagging Sawx. It's more than their place in the standings though, both teams look as though they've completely switched souls with a 180-degree difference in their overall vibes. The Yankees finished another series strong and find themselves atop the AL Wild Card race.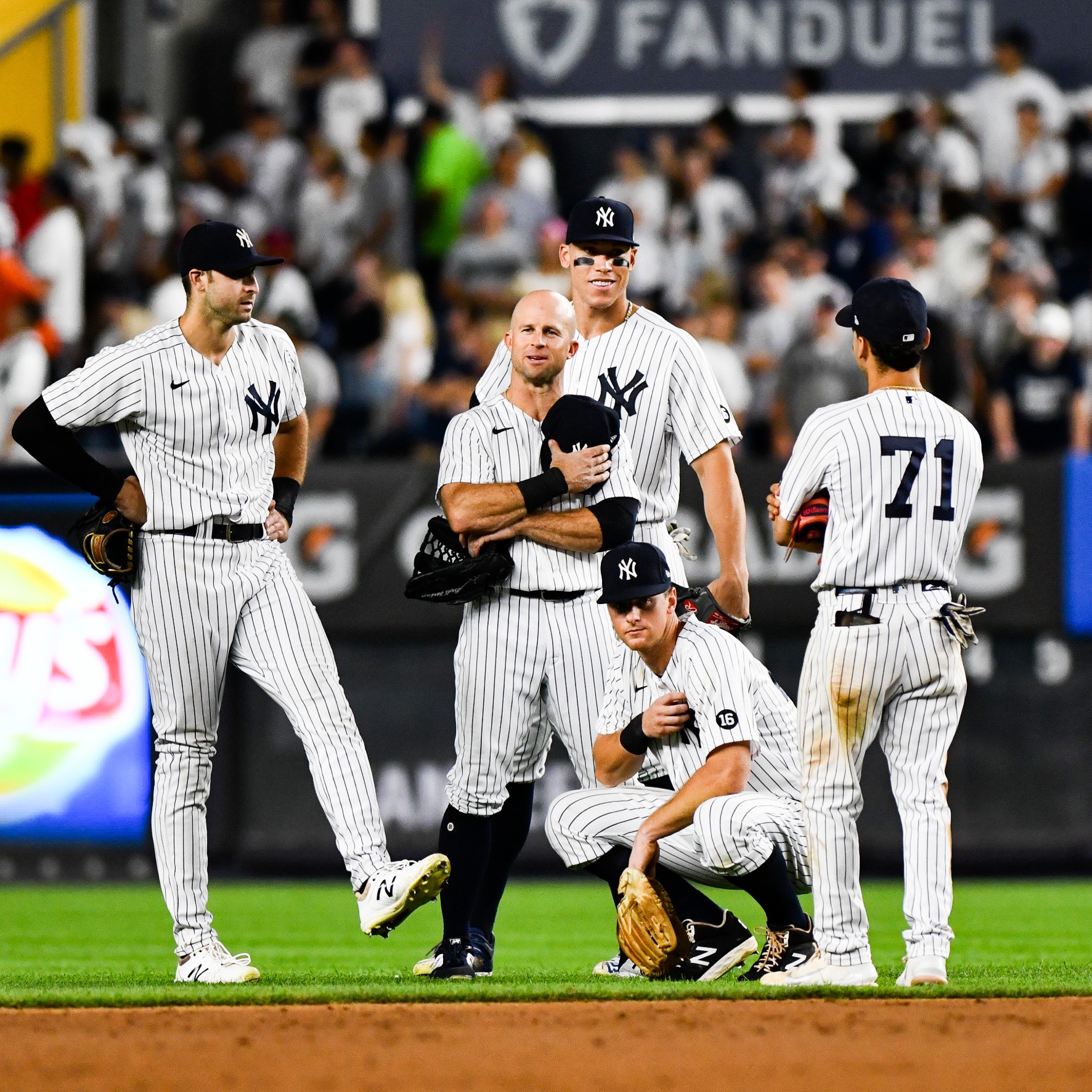 GAME 1
Yet again, the Yankees won a game they probably don't win a month ago. It wasn't easy but they did what good teams do and won another close contest, 5-3.
LOOKIN' FOR A LOCAL HERO
Bronx native and Randy Velarde doppelganger Andrew Velazquez knows the gravity of the rivalry. On Tuesday afternoon, he got to play a major role in determining the outcome. With runners in scoring position, Velazquez lined a two-out, two-run single to center off Tanner Houck,  for a 2-0 lead in the second stanza.
Rivalry ribbies. pic.twitter.com/2auh3uDCRv

— New York Yankees (@Yankees) August 17, 2021
MONTGOMERY FLEA MARKET
Returning from the COVID-19 protocol list, Jordan Montgomery was understandably not as sharp as he had been. During the top of the third, the Red Sox own shortstop, Xander Bogaerts struck back against the Yankee southpaw, with a two-run single to left. After curving him into an 0-2 count, the fastball in missed its location, and Bogaerts took advantage. A lollypop throw from Tyler Wade (who had an otherwise superb day at the plate) in left, coupled with a positioned up the first baseline Gary Sanchez, also likely contributed to Kiké Hernández scoring the tying run.
In the fifth frame, Christian Vazquez took Montgomery deep to left and gave the Bosox their first lead of the afternoon.
A BLOOP AND A BB
Yet, in the home half, the pinstripes punched back. Ex-Yankee farmhand Garrett Whitlock finally turned into a "plant" after striking out DJ LeMahieu. Brett Gardner and Aaron Judge both coaxed walks and chased Whitlock. Josh Taylor didn't fare much better and loaded the bases on a free pass to Joey Gallo.
The ensuing batter Luke Voit lofted an RBI single to right for a 4-3 edge. It was a nice adjustment from Voit, who usually attempts to crush an 800 foot home run.
Next was Giancarlo Stanton, pinch-hitting for Rougned Odor. Stanton drilled an RBI single to center to increase the advantage to 5-3.
LASAGNA AND PEPTO
After an eight-pitch 1-2-3 sixth inning, Jonathan Loaisiga was back out for the seventh inning. He did not make it an easy one. Lo let up three consecutive singles to Kyle Schwarber, Vazquez, and Alex Verdugo to pack the bases. Yet, unlike his meltdown at the Fens earlier this season, Lo locked it down. He got Travis Shaw to line out to Gardner in left and fanned Hernandez and Renfroe to preserve the victory. Piece of cake.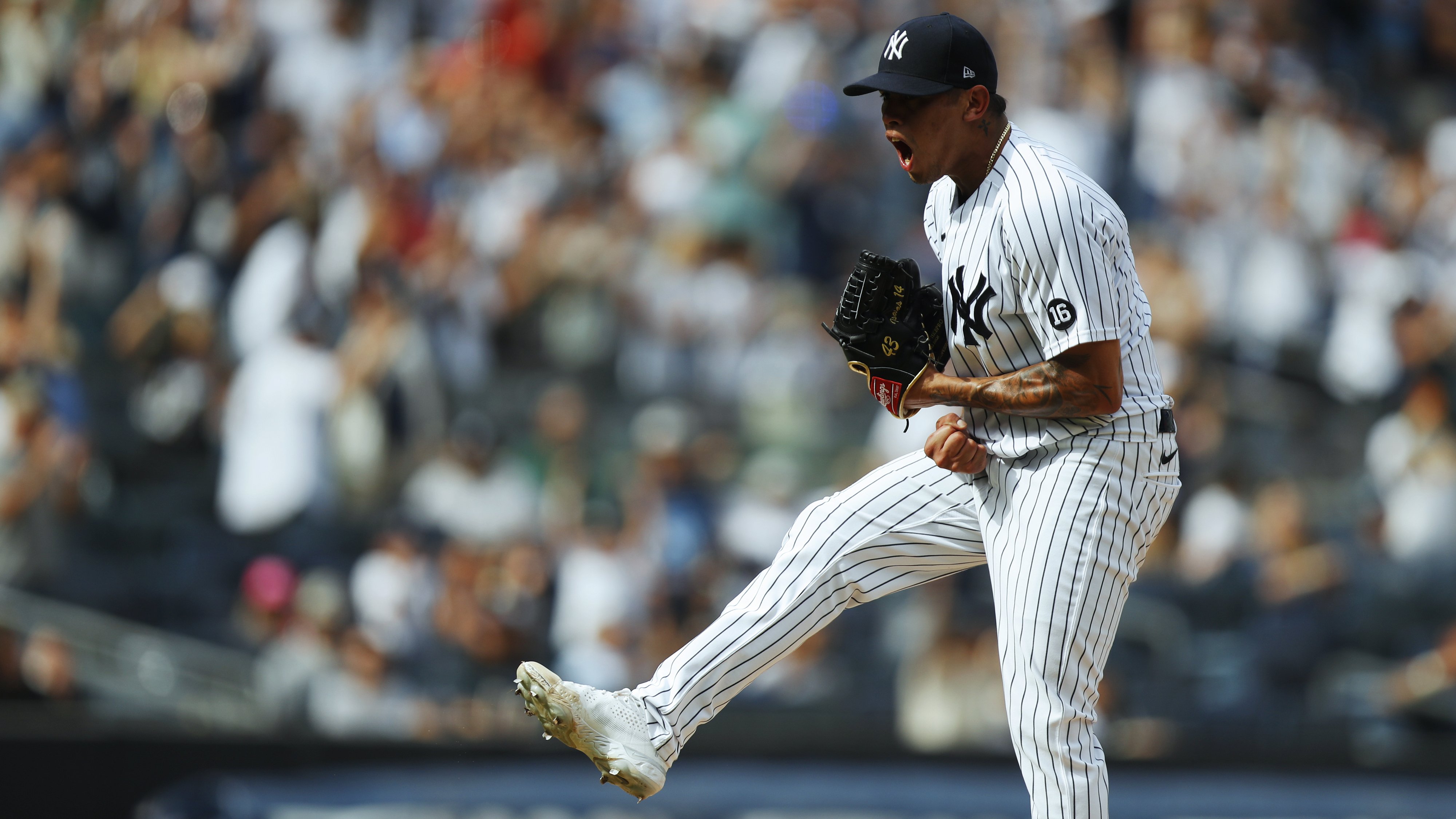 GAME 2
During the nightcap, the Yankees played a fairly crisp game in their 2-0 triumph. New York made some timely plays in the field and shut down the Red Sox.
OH YOU MAD HUH?
Poor ex-Yankee Nathan Eovaldi. If only he hadn't allowed those two solo home runs. Cry about it!  Fortunately, that's all the Bronx Bombers would need on the evening.
During the second stanza, Voit clocked a solo smash to right-center off a first-pitch fastball from Eovaldi for a 1-0 edge.
Two frames later, Stanton smoked a 441-foot bomb off an 0-2 curveball to left-center.
THE GIL DEAL
On the bump, Luis Gil kept his scoreless streak intact. The rookie righty tossed 4.2 scoreless innings and made key pitches when he had to. He became the first pitcher in Yankee history to begin his career with three consecutive scoreless starts. After allowing the first two batters to reach in the second stanza, Gil rebounded to strike out the side.
Yet, in the fifth, he didn't get helped out by Wade, who deflected a ball hit by Hernandez at shortstop. Gil eventually left the inning with two outs and the bases loaded.
MAGIC WANDY
Wandy Peralta came on from the pen and was able to get Devers to ground out to LeMahieu, who flipped to Wade at second. In the sixth inning, Peralta pitched in and out of trouble.
With two outs and Kevin Plawecki on first, the pinch-hitter Renfroe singled to left-center, where a nice diving stop by Gardner, held Plawecki from scoring and kept Renfroe at first. The ensuing pinch-hitter Bobby Dalbec smashed a comebacker off Peralta, who gathered himself and fired to first base to end the frame without allowing a run to score.
From there, Chad Green worked a flawless frame in the seventh inning and closed out the win.
GAME 3
The Yankees sealed the deal against the Red Sox. You know you're rolling when Andrew Heaney morphs into the second coming of Jimmy Key. Their 5-2 victory also rubbed some salt into the wound of the Red Sox with the return of Anthony Rizzo, who they passed on at the trade deadline.
ANDREW THE BRAIN HEANEY
At first glance, it seemed as though the Heaney homer train would rear its ugly head again. Hernandez led off and sent one to the track in the first frame and two batters later Bogaerts took him deep to right for an early 1-0 edge.
However, Heaney would not only stabilize but shut down the Sox. Boston could only muster one more hit against the Yankee southpaw, a Plawecki single in the fifth frame. Heaney posted seven strong innings and was all jacked up.
THE HATRED IS REAL
You think Velazquez and Rizzo didn't each have a chip on their shoulder in facing the Red Sox? I mean, Velazquez was born into hating them. Rizzo, who was drafted by Boston and passed on at the deadline, must've really wanted to stick it to them as well.
Facing Nick Pivetta in the second stanza, the pinstripes squared the contest on a Gardner sac-fly to center. Following him was the Yankee shortstop Velazquez, who ripped an RBI single to right and would then steal second base.
Whole squad ready. pic.twitter.com/8vp5QiTYxB

— New York Yankees (@Yankees) August 19, 2021
With two down, Rizzo doubled the lead with a rope two-run single off the glove of Dalbec at first base. How appropriate?
Later in the eighth inning, Velazquez padded the New York advantage with an RBI single to left off Taylor.
Hometown Hero, @squid718 👏 pic.twitter.com/q5u3JU2nba

— New York Yankees (@Yankees) August 19, 2021
While Zack Britton regained his composure in the eighth, the same could not be said for Aroldis Chapman in his return from the IL. Chapman had to be lifted before the third out was recorded, yielding a rocket homer to left to Renfroe. Wisely, manager Aaron Boone had Lucas Luetge warming up in the bullpen.
Fittingly, Luetge coaxed Plawecki to ground out to Velazquez, who threw to Rizzo to register the final out on a gem of a play.
Velazquez ➡️ Rizzo to secure the W. pic.twitter.com/zLbksXagpO

— New York Yankees (@Yankees) August 19, 2021
ON DECK
At 69-52, the Yankees play host to the Minnesota Twins for a four-game series at Yankee Stadium, beginning Thursday evening.
Pitching probables, John Gant vs. Jameson Taillon, Charlie Barnes vs. Nestor Cortes Jr., Kenta Maeda vs. Gerrit Cole, Griffin Jax vs. Jordan Montgomery.