Wasn't sure what to title this because I'm going to cover a lot of ground here. They say the first step to recovery is admitting you have a problem. My problem is that I am in a toxic relationship with the New York Yankees.
After a 2-5 homestand against division rivals Tampa Bay & Boston, including a sweep at the hands of the Red Sox, Yankee fans are down bad. There have been plenty of hot takes and overreactions from the fanbase. I don't blame them. This Yankee team was the odds-on favorite to win the pennant coming into the season, and they currently sit in 4th place in their own division. I want to talk about some of these issues more specifically though. Instead of the typical "fire everyone," "this lineup stinks," etc., let's talk through the Bombers' problems.
Aaron Boone's decision making
If you want Boone out, I get it. I'm done with him too, but I just don't see the Yankees making a mid-season managerial change. They haven't made such a move since George Steinbrenner fired Bucky Dent in June of 1990. That was The Boss' 19th managerial change in his 17 years owning the team up to that point. On the contrary, Brian Cashman has had just three managers in his 24 seasons at the helm. So if you're looking for a change in the dugout, I wouldn't hold your breath.
Everyone (myself included) was furious with Boone for not reacting whatsoever to a terrible strike three call on Rougned Odor in the bottom of the 9th Sunday night.
unreal pic.twitter.com/ctYrBbASB2

— Gabe (@PlayoffTanaka_) June 7, 2021
HOW IS BOONE SITTING IN THE DUGOUT

— Stanzo (@ncostanzo24) June 7, 2021
Phil Nevin just had a fucking staph infection and lost 22 pounds and he shows more emotion than Boone

— Stanzo (@ncostanzo24) June 7, 2021
It was infuriating to watch, especially considering the Yanks got jobbed by umpires pretty bad against the Rays on Thursday as well. But that call didn't lose them the game, nor did Boone's lack of fire. Some of Boone's decisions, however, contributed to the loss.
Pulling Domingo German at just 84 pitches was an interesting move. He was in complete control since allowing a first inning solo HR to Alex Verdugo. Maybe Boone was concerned by the four-pitch walk to Xander Bogaerts and wanted to prevent a game-tying HR from Rafael Devers. Understandable, and Boone opted for the left-on-left matchup with Lucas Luetge which worked out.
Where Boone loses me, however, is letting Luetge pitch the 7th. Hunter Renfroe and Marwin Gonzalez have both been much better against lefties than righties this season. (Renfroe 168 OPS+ vs. LHP, 94 OPS+ vs RHP; Gonzales 129 OPS+ vs. LHP, 52 OPS+ vs. RHP). Luetge allowed a Renfroe single & Gonzalez double in the game Friday. So why is he still in the game for the 7th?
If Boone needed to get through the 7th with Chad Green & Jonathan Loaisiga unavailable, why not let German get that chance instead of Luetge? And if he wanted Luetge to face Devers in the 6th that badly, why not go to a righty in Luis Cessa for the 7th? We've seen Boone mismanage games before, and it's happening again.
Failure to put players in positions to succeed
Players obviously deserve blame, but some of that blame falls on the Yankees for putting them in bad situations. The Luetge situation I outlined is just one example of that.
The Deivi/Happ fiasco last year, shifting guys out of position (Gio, Andujar, Wade, etc), putting guys like Odor/Ford at the top of the order just for the sake of having a lefty there. The list goes on

— Stanzo (@ncostanzo24) June 7, 2021
Andujar is a failed third baseman turned outfielder. Although he's done an admirable job with the transition, a true outfielder catches Bogaerts' 6th inning double on Saturday.
The Xander Bogaerts double had a 95% catch probability, per Statcast.

— Bryan Hoch (@BryanHoch) June 6, 2021
The double set up Devers' two-run, game-tying single. Andujar is trying his best out there, but with a real left fielder, Jameson Taillon likely gets out of that inning unscathed.
Similarly, if the Yankees simply played Aaron Judge, their star right fielder, in right field, this ball doesn't drop Sunday night:
No one caught this. Would've been cool if someone did. pic.twitter.com/NoF7p77wet

— Talkin' Yanks (@TalkinYanks) June 7, 2021
Should DJ have caught it? Probably. Is that Clint Frazier's ball? 1000%.
How about the fact that the Yankees haven't played Giancarlo Stanton more than two games in a row since he was activated off the IL? Stanton is feast or famine based on his timing being down or not. How is he supposed to get his timing back without regular at-bats? Then Boone throws him into the game cold to pinch hit. So he's healthy enough for one AB, but not four? What are we doing here?
Let Stanton play the whole fucking game if he's available instead of throwing him in cold. Wtf are we doing

— Stanzo (@ncostanzo24) June 7, 2021
Bottom line, the Yankees are horrific at putting their guys in position to succeed.
The offense
There's plenty of blame to be put on Boone and management. But at the end of the day, the Yankees are not hitting as well as they should be.
Let's start with DJ. I love the guy for what he did in 2019-20. Carried the team at times, two top-5 MVP finishes. But that doesn't change the fact that he's been downright awful this season. LeMahieu has a WRC+ of just 89, meaning he's been 11% worse than league average this season. He's the Yankees' leadoff hitter, and he's been terrible. Don't take this as a shot at the DJ signing. I was ecstatic when he re-signed, even knowing he was due for regression. I just didn't picture it being this bad. He's striking out more (17.9 K% in 2021 compared to 9.7% in 2020 & 13.7% in 2019), and hitting the ball hard much less:
DJ's is not so striking from the lens of average LA (5.4 in 19-20 vs 4.9 this year). What's hurt him more appears to be a huge drop in hard contact rate (39.2% 19-20 vs 27.5% this year), and that drop in exit velo nuking his xBA and xSLG.

— Yankees Files (@YankeesFiles) June 7, 2021
I know DJ is capable of more. If the Yankees are going to turn it around, he HAS to be better.
In addition to DJ, the Yankees are lacking power. Two IL stints have limited Luke Voit to just 12 games. Stanton's late April/early May hot streak was huge for the Yankees, but he's been invisible since returning from injury last weekend. Not to mention the power regression from the likes of Gleyber Torres, Gio Urshela, Miguel Andujar, and Clint Frazier.
It's this. Guys who are hitting the ball just as hard as they always have decided to stop hitting it in the air. That's double plays. That's low SLG. That's low BABIP. If all these guys just regressed to their typical launch angles this team would be mashing the way we expect. pic.twitter.com/CxvVyUDVul

— Yankees Files (@YankeesFiles) June 7, 2021
People love to rip on the Yankees for striking out. They currently rank 10th in strikeouts. The Bombers' real problem is lack of power, as they rank 25th in slugging. Stop settling for weaker contact and start trying to put more balls in the gap and out of the ballpark. It'll result in more strikeouts, but also more extra base hits & less double plays. Speaking of double plays…
Oh Goodness I found a bad stat…

Bases loaded • zero outs

Double plays grounded into

7 – Yankees
2 – Red Sox
1 – 11 teams
0 – 17 teams

— @realBoShek (@realboshek) June 7, 2021
The Yankees hit for no power, too many double plays, and are terrible with RISP. I didn't even mention baserunning. They suck at that too.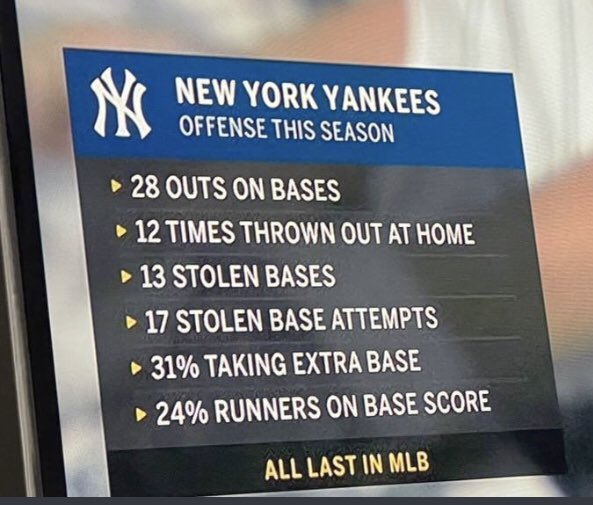 They need to add a bat or two via trade, but the best solution is LeMahieu, Stanton, Torres, Urshela, Voit, and either Frazier or Andujar figuring it out.
So now what?
The Yankees currently sit at 31-29, 6.5 GB of the division and 2.5 games out of the second Wild Card. It's honestly remarkable they're over .500 with how pathetic the offense has been. If you want a positive spinzone, there it is. We all know this team is capable of better. The question is, when will they turn it around? If the answer isn't soon, we may end up talking about the 2021 Yankees as one of the more disappointing teams in franchise history.
What are your thoughts on the state of the Yankees? Comment below or tweet me @ncostanzo24 to vent.